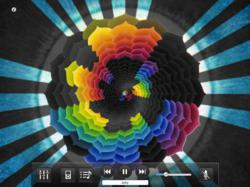 "A smart new and dare I say exciting app for the Apple iPad … it has to be seen to be believed… you will be amazed at how this app tracks the music to produce the most fantastic graphics, we like it!" ~TECHMASH.co.uk
Los Angeles, California (PRWEB) September 15, 2011
Los Angeles-based Soundala, developer of the Soundala Play music visualizer for iPad, has received approval from Apple, Inc. for inclusion in the iTunes App Store. The collaboration brings music lovers the exhilarating new Digital Music Display alternative that transforms the listening experience into a visual feast for the eyes.
Digital Music Displays are a new breed of music visualizers that accurately reflect music in real time. After years in development by company founder and Soundala Play creator Bruce Robertson, the introduction of the iPad in 2010 provided the perfect platform to transform the Digital Music Display into an easily accessible iTunes app.
"Soundala Play is not your father's music visualizer," said Robertson, a former recording engineer and award-winning filmmaker who invented and patented the Digital Music Display. "While old-school visualizers produce spacey kaleidoscopic images that float across the screen, Soundala Play displays every beat and frequency of the music with precision and beauty."
Robertson added that typical music visualizers offer viewers fractal patterns that are only subtly influenced by the music. "Soundala Play provides listeners with the ability to visually connect to their music in a way that has never been done before. When a snare drum pops or guitar wails, the screen instantly bursts with corresponding visuals."
The Soundala Play app was designed for personal use on the iPad, however with appropriate VGA or HDMI adapters it outputs to larger formats such as flat screen TVs to create mesmerizing music visuals for parties and for use as DJ lighting, Robertson said.
The Soundala Play graphics showcase a vibrant and colorful mandala from an original work featuring a full spectrum of spiraling lotus petals, which respond individually to the music, creating complex visual patterning. The result is a stunning convergence of Western studio-quality spectrum analysis and Eastern meditative art.
The Soundala Play iPad music app offers users onscreen controls that may also be used to create personalized visual "themes" to match with favorite songs. They may be emailed to friends, shared on social networking sites and downloaded by other iPad users with the app, said Robertson.
Robertson said he is anticipating development of a more compact version of Soundala Play for the iPhone and a more complex version for use at large DJ events, live concerts and for light shows.
###