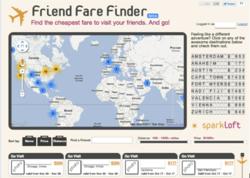 As a social media company with a passion for travel and a great number of clients in the travel space, we know this tool will be welcomed by users around the world," said Martin Stoll, founder and CEO of Sparkloft Media
Portland, Oregon (PRWEB) September 15, 2011
Sparkloft Media (http://www.sparkloftmedia.com) today launched "FriendFareFinder," a social airfare booking application (http://www.friendfarefinder.com) that helps users easily find the lowest airfares to visit their Facebook friends.
The application sorts airfare results by price, geographical distance or Facebook friends, making it easy for users to enhance their online connections and create new, real life experiences. The application also shows the lowest airfares to featured destinations, for users who are not looking to visit specific Facebook friends.
FriendFareFinder is a new addition to the field of f-commerce (social commerce through Facebook) that simplifies airfare searching and booking by leveraging social data from Facebook.
A true social commerce application, FriendFareFinder combines the social data of Facebook users with relevant airfare information.
"Many people are already using tools like Facebook, Google+, or Skype to stay connected. We hope they will now be inspired by FriendFareFinder to take that extra step and book a trip to visit their friends," said Martin Stoll, founder and CEO of Sparkloft Media. "As a social media company with a passion for travel and a great number of clients in the travel space, we know this tool will be welcomed by users around the world."
Sparkloft Media, a division of GoSeeTell Network Inc. (http://www.goseetell.com), provides a wide range of services, including social media strategy development, social media campaign management and implementation services as well as social software development. The firm's clients include some of the most innovative organizations in travel and tourism around the world in addition to consumer/lifestyle brands, government, non-profit and economic development organizations. In 2009, GoSeeTell Network Inc. made headlines when it created the world's first "Twisitor Center," a Twitter-based visitor information center that crowd-sources travel tips for destinations.
GoSeeTell Network Inc. and Sparkloft Media provide integrated programs that target key client objectives and ROI. This has led the firm to develop first-to-market software and service products including for-sale partner promotion platforms, co-op marketing campaigns, the ConferenceConnectTM service for meetings and events, international market development campaigns, tools and specialized social influencer outreach programs to name a few.
###