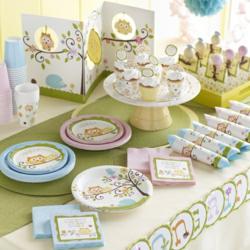 Owls and ladybugs are very in-style with decorating and lifestyle companies.
Enumclaw, WA (PRWEB) September 14, 2011
PartyPail, Inc. has introduced some new baby shower decorations, including Happi Tree baby shower and Ladybug Fancy baby shower themes. These decorations prominently feature owls and ladybugs, both popular animals being featured in this season's trendiest baby nurseries and lifestyle products. Both themes include everything needed to throw a baby shower, from the invitations and tableware to personalized favors and room décor.
"We are proud to offer what we believe is the best selection of baby shower decorating themes available anywhere, and these new designs extend our leadership in this important celebration category," says Edward Hechter, CEO of PartyPail, Inc. "Happi Tree is already a very popular nursery theme, so we loved the idea of being able to offer the same theme as décor for the shower welcoming baby into the world!"
The Happi Tree owl baby shower theme is already proving to be popular, quickly becoming a best seller as soon as it was made available on the PartyPail.com website. Part of this popularity is probably due to the season's trend of woodland creatures, but some can probably also be attributed to the reputation of owls as wise animals, something parents undoubtedly hope for in their children.
The new Ladybug Fancy baby shower theme is also a being met with immediate success. Sales have been extremely brisk for this pattern since it was made available late last Friday night. Ladybugs have always been popular insects with children, since they are more attractive than other small insects, and are considered beneficial creatures. Many children collect ladybugs and even keep them as pets, so using ladybugs as a baby shower theme was a natural move.
"We've been looking for more patterns featuring the animals that moms love to use for design inspiration in their nurseries. and these new themes capture the whimsical and fun feel of a baby-centered event," says Traver West, General Manager of PartyPail. "Owls and ladybugs are always popular designs with many home decorating and lifestyle companies right now, and they translate into great themes for baby shower decorations."
As part of the product launch, PartyPail has also introduced lines of coordinating baby shower favors for both Ladybug Fancy and Happi Tree. Based on feedback from customers, and the success of prior similar product line extensions, the company's product team worked hard to ready the release of almost 20 Owl and Ladybug baby shower favors that are integrated into the offerings. These favors feature free personalization, allowing the host of the shower to create truly one-of-a-kind gifts for the attendees.
About PartyPail:
PartyPail, Inc. is a party supply company specializing in baby shower decorations, 1st birthday party supplies, bridal shower décor, and themes for adult milestone birthday parties. Based in beautiful rural Washington State, PartyPail started out as a baby shower decorations company, but has grown to include supplies for many types of celebrations. Over the years the staff has grown as well, from a business completely operated by husband and wife team, Lisa and Edward Hechter, to a staff of more than 25 employees. This growth can be attributed to the company's focus on keeping prices affordable and offering five star customer service.
###