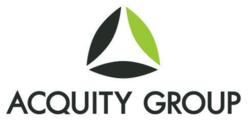 Chicago, Ill. (PRWEB) September 14, 2011
Acquity Group LLC, a leading global brand eCommerce and digital marketing company, has been selected, along with Belk, to host a roundtable discussion at the 2011 Shop.org Annual Summit taking place Sept. 12-14 at the Boston Convention & Exhibition Center.
Roundtables are focused, small group discussions that are consistently ranked as one of the most worthwhile portions of the three-day Annual Summit. In this session, Bob Gingras, Vice President of Acquity Group, and Ivy Chin, SVP of eCommerce at Belk Stores, the nation's largest family owned mainline department store company, will discuss details of Belk's online and digital operations transformation.
The speakers will share key insights, best practices, and strategies used in the complete transformation of Belk.com, which led to rapid growth in the channel, contributed significantly to the site's largest single-day sales and traffic to date, and put them in a scalable position for future eCommerce growth.
"We are looking forward to making this roundtable discussion an interactive and educational experience for online retailers," said Gingras. "We will share our experiences from managing the transformation process and strategies that are helping Belk.com drive continuous improvements to the online customer experience and strong sales. Attendees will walk away with proven tactics for enhancing their eCommerce functionality."
The Acquity Group and Belk roundtable will be held Wednesday, Sept. 14 during lunch from 12:30 p.m. to 1:45 p.m. ET in the EXPO Hall at the Boston Convention & Exhibition Center. For more information about the 2011 Shop.org Annual Summit visit http://www.shop.org/summit11.
About Acquity Group:
Acquity Group is a leading brand eCommerce and digital marketing company, creating award-winning digital experiences for global brands. Our multi-disciplinary approach brings together strategy, design, and technology to create brand-unique experiences that build strong customer relationships. Acquity Group has its U.S. headquarters in Chicago, with offices across the U.S. To define a unique perspective for your business, contact Acquity Group at http://www.acquitygroup.com.
About Belk, Inc.:
Charlotte, N.C.-based Belk, Inc. (http://www.belk.com) is the nation's largest privately owned mainline department store company with 303 Belk stores located in 16 Southern states. The company was founded in 1888 by William Henry Belk in Monroe, N.C., and is in the third generation of Belk family leadership. Its belk.com Web site offers a wide assortment of fashion apparel, shoes and accessories for the entire family along with top name cosmetics, a wedding registry and a large selection of quality merchandise for the home. To connect with Belk via Facebook, Twitter, blog, mobile phone text message or by email, go to: Belk Get Connected.
About Shop.org:
Shop.org, a division of the National Retail Federation, is the world's leading membership community for digital retail. Founded in 1996, Shop.org's 600 members include the 10 largest retailers in the U.S. and more than 60 percent of the Internet Retailer Top 100 E-Retailers. It's where the best retail minds come together to gain the insight, knowledge and intelligence to make smarter, more informed decisions in the evolving world of the Internet and multichannel retailing. Shop.org programs and activities include benchmarking research, events and networking communities.
###