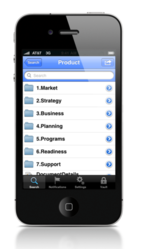 Raleigh, NC (PRWEB) September 15, 2011
Business processes are built on documents. Finance processes budgets. Sales delivers presentations. And marketing builds collateral. These teams must effectively manage their documents to get business done.
But today's professionals are always on the move. They're at the office, a client site, or on a plane. Yet, they need to review, share, and manage their business documents no matter where they are.
KnowledgeTree answers the call by extending its Smart Tools to Apple iOS mobile devices. Now, KnowledgeTree customers can securely connect to their document vault from their iPhone or iPad. A free app, available on the Apple App Store, lets customers get "smart" about managing their documents with:

Smart Tags let users organize documents based on their unique business model. Corporate counsel can structure contracts by due date, client number, and product type to make managing documents a snap.
Smart Alerts keep professionals on top of changing documents and activities. Now, as a statement of work is revised, project teams get instant alerts on their iOS device. Approvals get unstuck, and business processes accelerated.
Smart Search looks in document titles and Smart Tags to find needed files. Now, sales people can discover a proposal they want to validate from any location. They can even save files in a secure vault on their device for offline review.
KnowledgeTree customers and current trialists can install the app for free from the Apple App Store. Some restrictions apply by plan, so contact your account manager for details. Find out how to make business-critical documents matter with a complimentary eBook.
"Mobile professionals need more than access to their documents," said Daniel Chalef, KnowledgeTree's CEO. "They need Smart Tools to manage the contracts, presentations, invoices, and other documents that run their business. Now, with iOS plus Android support, customers can stay in control of their documents wherever they are."
About KnowledgeTree
KnowledgeTree makes documents matter. Orbitz, Miramax, Alcatel / Genesys, Fuji Chemical, and hundreds of other companies use KnowledgeTree to drive productivity by working smarter with documents. KnowledgeTree helps legal, finance, HR, and sales teams easily develop and execute business processes around documents, and drive productivity and actionable insight. KnowledgeTree is headquartered in Raleigh, NC. Find out why Network World called KnowledgeTree one of the 10 SaaS companies to watch. Visit http://www.knowledgetree.com for more information and to download a complimentary eBook.
Tweetables
Smart Tools for managing documents go mobile on iPad and iPhone @knowledgetreesw http://bit.ly/pcHMrd
Free eBook from @knowledgetreesw makes document management productive for teams http://bit.ly/pcHMrd
Follow us at @knowledgetreesw
Smart Tags
Users have thousands of documents to manage and share. They want their colleagues to spend more time working with documents, and less time organizing or finding them. But with so many documents, it is tough to organize content so they can find what they need.
KnowledgeTree's Smart Tags let users easily organize documents based on concepts that matter to them. So, they can find documents based on who wrote them, what project they are for, what type of document, or other descriptions. They can use pick lists, dates, and rich text fields – and customize them to their own organization's needs.
Smart Alerts
Users have to stay on top of change, especially for their core documents. A contract might receive a new update from Legal. A proposal may be get modified pricing. Users need to control dozens, or even hundreds of documents and stay in control.
KnowledgeTree's Smart Alerts let users create notifications that update users when subscribed content changes. Now, change is constantly surfaced to users.
Smart Search
With so many documents it can be a chore to find what users need. They need that great sales proposal now. They don't have to spend time browsing for a document when Smart Search lets them find it fast.
KnowledgeTree's Smart Search technology lets users quickly find the document you want. They can search in a document title, in its Smart Tags, or in the content itself for many document types. Because they can tailor and save queries to filter by date, author, project name, or other Smart Tags, they can get the document they need fast.
All trademarks are owned by their respective parties.
###