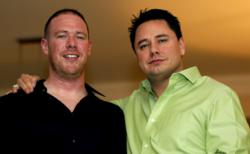 TeamLauncher.com is thrilled to be recognized as a top 10 website for small business by CNBC Business
Miami, Florida (PRWEB) September 15, 2011
TeamLauncher.com, a leading service for hiring remote employees, has been named by CNBC Business Magazine one of the top 10 best new websites for small businesses. The company placed higher on CNBC's list than Microsoft and Google, for substantially reducing hiring expenses for small to medium size businesses.
Team Launcher, which has offices throughout United States, Philippines and India, recruits highly skilled people globally to work for American companies on programming, graphic design, copy writing, search engine marketing and customer service legal support and much more. They save small businesses up to seventy percent off traditional hiring and office expenses. Employees are available around the clock in three different shifts.
"Our entire company is thrilled about this recognition," said Rick Ramos, CEO of Team Launcher. "Our goal is to help small and medium size businesses to compete effectively. In the past, only Fortune 500 companies had the resources and know-how to recruit highly skilled people in emerging markets. Now our company provides outstanding international recruiting, and our local managers ensure leased employees succeed beyond our clients expectations from our offices."
About TeamLauncher.com
TeamLauncher.com is a fantastic way to reduce both office and payroll expenses substantially while improving an organization's productivity. Team launcher help recruit, interview and hire exceptional employees to work from our offices supervised by our managers and using our equipment and software, all included in one low price staring at just $999 monthly.
We tailor our outsourcing engagements to meet specific goals. We provide beginner, intermediate and expert level employees with programming, graphic design, secretarial, paralegal, call center and search engine optimization experience. TeamLauncher.com works with Fortune 500 companies to small businesses around the globe.
For more, please visit: http://www.TeamLauncher.com or email us at Info(at)TeamLauncher(dot)com.
###