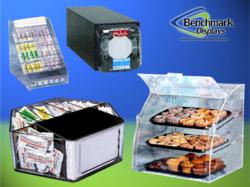 Palm Desert, CA (PRWEB) September 15, 2011
Benchmark Displays has added a new line of displays for the Food Service Industry. Restaurants, Delis, Bakeries and Food Service outlets are purchasing many of the new items available on-line at DisplaysDirect.net and TaymarPlasticDisplays.com.
One of the most exciting products is the LIDSAVER™ LID DISPENSER is a single lid dispenser. The LIDSAVER™ LID DISPENSER keeps beverage stations profitable by helping them stay neat, clean, and sanitary. It flush mounts to any counter and is available with counter-top cup dispensers. No mater the lid model and manufacture, the LIDSAVER™ requires no installation is available in sanitary, polystyrene construction as well as an optional stainless version.
The LIDSAVER™ LID DISPENSER is a clean new look for any food service outlet. It prevents excessive handling, exposure and contamination of lid inventory. No more stacked lids that may be exposed to the environment and bacteria. It dispenses one lid at a time and eliminates unnecessary cup lid waste. Customers do not have to fumble with loose stacks and multiple lids stuck together and the appropriate lid size and cup are together. The LIDSAVER™ LID DISPENSER provides one-hand, one-touch operation that is convenient for on-the-go self serve customers.
The LIDSAVER™ LID DISPENSER meets Federal Mandate #4-904.11 and is the only dispenser on the market that can guarantee single lid dispensing.
Food outlets and stores can draw attention to their bakery display with space saving, high-volume, high-tech merchandisers of the Euro Curve Bakery Cases line. Euro Curve Bakery Cases are constructed of heavy gauge acrylic are available in several sizes that feature both rear and/or front doors to simplify operation. Clear and black acrylic trays are available and with the attractive curve front case designs, pastry product visibility is vastly enhanced. Euro Curved Bakery Cases have been designed to easily fit on standard self serve food counters.
Additional restaurant items are: condiment and napkin holders, bakery cases, bagel bins, pastry trays and more. Visit TaymarPlasticDisplays.com, for a full listing and prices.
Benchmark Displays specializes in custom designed displays, entrapments, point of purchase displays and merchandisers for retailers as well as pharmaceuticals, the cosmetic and beauty industries, the automotive industry, hospitals, schools and agencies.
Benchmark is capitalizing on its worldwide manufacturing capabilities and resources to make and distribute affordably priced Lucite awards and virtually thousands of display designs for literature and retail products in a variety of materials, many of which are recycled for a greener world.
###