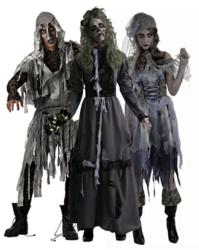 Zombie costumes for kids and adults continue to grow in demand each year by consumers around the world.
Mancos, CO (PRWEB) September 14, 2011
The zombie costume collection is continuing to expand at TotallyCostumes.com, a leading online costume store. Zombie costumes for kids and adults continue to grow in demand each year by consumers around the world. TotallyCostumes.com is answering by bringing in a large variety of zombie costumes.
Zombies have become part of pop culture and have acquired its popularity since 19th century folklore. Zombies are a popular subject for horror fiction in our modern times and have appeared in various books, films and in television shows. These flesh hungry monsters also appear in recent video games such as Plants vs. Zombies, Left 4 Dead and Dead Island. Zombies also continue to appear in recent movies such as Pirates of the Caribbean: On Stranger Tides, Resident Evil series and upcoming film World War Z starring Brad Pitt. TotallyCostumes.com believes that Zombie costumes are sure to remain a staple category for many years to come.
For Halloween 2011, TotallyCostumes.com reveals that the female zombie costume is high in demand. To answer customer requests, they have added to their selection of zombie costumes for women and girls. A few of the new styles includes a Pajama Girl Zombie Costume from the licensed The Walk Dead collection as well as generic styles that include Zombie Pirate Girl Zombie Costume and First Lady Zombie Costume.
Music fans will appreciate their Michael Jackson Thriller Costumes. They not only carry the officially licensed red jacket from the Thriller music video, but also the Michael Jackson Thriller Werewolf Costume that appeared in the introductory scene of the video. With sizes for both kids and men, all ages can enjoy the Michael Jackson Thriller Costume that has become an iconic look of the decade perfect for Halloween.
TotallyCostumes.com offers the Corpse Bride in their selection so that customers can use it to create their own zombie bride costume. The zombie costume accessories are a collection of items that customers can use to enhance their undead corpse character to the max. Zombie masks, wigs, make-up kits, hands, feet shoe covers, fake fingernails, bloody tights, prop intestines and special effects FX prosthetics are only a few of the accessories they offer to enhance the zombie apocalypse experience. Some of the latex appliance prosthetics include decapitated neck, zombie neck bite, blood-stained rotting lips, lobotomy forehead and skull eye pieces to name a few. Drool black blood with their fake blood capsules and show them your flesh eating fangs with the rotting fake teeth dentures.
TotallyCostumes.com is planning to continue their zombie costume expansion into 2012. Customers can count on their selection to help them attend their next Zombie Walk or scare friends at the next Halloween party. The zombie doctor, punk zombie, rock star zombie and decomposed zombie are just a few of the classic styles they offer. Couples can enjoy a large variety of ideas including the traditional bride and groom zombie costume.
About the Company:
TotallyCostumes.com, a leading retailer of scary Halloween costumes and costume accessories for all occasions, makes sure the party never stops! This e-commerce costume retailer believes in carrying a large selection of high quality costumes in all sizes, styles and themes to fulfill any party, costume or event requirement. They have a dynamic team that works together so their customers receive their order quickly. Their friendly customer care team is dedicated to providing their customers with diligent service while their shipping facilities work efficiently in shipping your order out as quickly as possible.
###