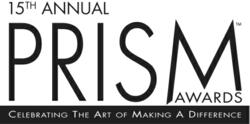 Entertainment Tonight co-host and preeminent entertainment personality Nancy O' Dell returns for her fourth year as host of the show. "I am honored to help the PRISM Awards salute those who shine a light on serious issues," said O'Dell.
Los Angeles, CA (PRWEB) September 13, 2011
The Entertainment Industries Council, Inc. (EIC), the premiere non-profit organization dedicated to raising awareness of health and social issues through entertainment, announced that the 15th Annual PRISM Awards Showcase, will expand its telecast this year to include not only flagship airing partner FX Network but also additional cable networks, local cable and broadcast outlets, video on demand (VOD) and web streaming. The show is a tribute to production and performances accurately depicting substance abuse and mental health issues, and begins airing on September 25th.
In addition to FX, other cable networks signed on to air the show include TV Guide Network, REELZCHANNEL, mtvU, National Geographic Channel, ION Life, and Retirement Living TV. Time Warner Cable is the first cable system to agree to air the show on local access. The cable window shuts September 30. However, outlets can continue to air the special via VOD and on the internet through the end of October, at which point, broadcast stations will begin airing the show locally. E!, MTV and TV Guide Network will offer the show in their VOD folders, while Bravotv.com, MTV.com and TVGuide.com will stream the show.
Entertainment Tonight co-host and preeminent entertainment personality Nancy O' Dell returns for her fourth year as host of the show. "I am honored to help the PRISM Awards salute those who shine a light on serious issues," said O'Dell. Joining as guest co-hosts are Melora Hardin (The Office), Hosea Chanchez (The Game), and Alison Haislip (The Voice).
Also featured in the show are Steven Tyler (American Idol), Emmy nominee Peter Krause (Parenthood), Sarah Drew (Grey's Anatomy), Oscar nominee Robert Forster (Alcatraz), Dr. Drew Pinsky (Dr. Drew), Nicolette Sheridan (Desperate Housewives), Kevin Sorbo (Soul Surfer), KaDee Strickland (Private Practice), Susan Sullivan (Castle), Emmy winner Aaron Paul (Breaking Bad), Robert David Hall (CSI), Ken Howard (SAG President), Joey Lawrence (Melissa & Joey), Tony Denison (The Closer), Jon Huertas (Castle), Ashley Jones (The Bold & The Beautiful), Danny Arroyo (The Resistance), Max Burkholder (Parenthood), Jennifer Gimenez (Celebrity Rehab), T'Keyah Crystal Keymah (That's So Raven), Scott Patterson (The Event), Mark Pellegrino (Being Human), Richie Supa (singer/songwriter), and Gary Anthony Williams (Mad). Shadoe Stevens serves as announcer.
This year's winners featured in the show include The Fighter, Black Swan, Halle Berry for Frankie and Alice, Drop Dead Diva, Grey's Anatomy, Mad Men, Tony Denison for The Closer, Nurse Jackie, Rescue Me, Parenthood, Aaron Paul for Breaking Bad, KaDee Strickland for Private Practice, Peter Krause and Max Burkholder for Parenthood, One Life to Live, When Love is Not Enough: The Lois Wilson Story, E! Investigates: Teen Suicide, and If You Really Knew Me.
The PRISM Lungevity Award for portrayal of lung cancer, in partnership with the LUNGevity Foundation, went to The Bold & The Beautiful, and the Adam "DJ AM" Goldstein Recovery Advocacy Award was presented to singer/songwriter Richie Supa.
The 15th Annual PRISM Awards Showcase will be simulcast at 4:00 p.m. on September 25th with an encore at 1:00 a.m. with feeds on both coasts, but will air at additional times on some outlets. It is produced by EIC, in collaboration with the Substance Abuse and Mental Health Services Administration (SAMSHA) and FX Network. The show is executive produced by Brian Dyak, Lawrence Scot Deutchman and Marie Gallo Dyak and is written by Deutchman and Brian Dyak. Angela Snow is Supervising Producer.
The PRISM Awards' Entertainment Industry Partners include the American Federation of Television and Radio Artists (AFTRA), Entertainment Merchant Association, Hollywood Radio & Television Society, Independent Film & Television Alliance, International Documentary Association, International 3D Society, National Association of Broadcasters, National Association of Television Program Executives (NATPE), National Cable & Telecommunications Association, Screen Actors Guild, Women in Film, Writers Guild of America East, and Writers Guild of America West, Inc..
The PRISM Awards Showcase was made possible with additional support from The Boeing Company and InspirationsYouth.com.
About Entertainment Industries Council
EIC, a non-profit organization, was founded in 1983 by leaders of the entertainment industry to bring the power of the industry to bear on communication about health and social issues. The organization is considered to be the chief pioneer of entertainment advocacy outreach and one of the premiere success stories in the field of entertainment education and information resources for entertainment creators, through innovative and time-proven services and methods of "encouraging the art of making a difference" from within the entertainment industry. EIC also produces the simulcast national television special PRISM Awards Showcase which addresses accurate portrayals of substance abuse and mental illness: prevention treatment and recovery.
EIC also addresses issues such as diabetes, ADHD, foster care, women's health, firearm safety and injury prevention, sun safety and skin cancer prevention, human trafficking, terrorism and homeland security, eating disorders and obesity, seat belt use and traffic safety, and HIV/AIDS prevention. It has also launched an initiative to increase the public profile and interest in science, engineering and technology. EIC's web site is http://www.eiconline.org.
About SAMHSA
SAMHSA is a public health agency within the U.S. Department of Health and Human Services. The agency is responsible for improving the accountability, capacity and effectiveness of the nation's substance abuse prevention, addiction treatment, and mental health services delivery systems.
About Airing Partners
FX Network is the flagship general entertainment and basic cable network from Fox. Launched in June of 1994, FX is carried in more than 96 million homes. The diverse schedule includes an award-winning line-up of original series, an established film library with box-office hits from 20th Century Fox and other major studios, and an impressive roster of acquired hit series.
Bravo is a program service of NBCUniversal Cable Entertainment, a division of NBCUniversal, one of the world's leading media and entertainment companies in the development, production, and marketing of entertainment, news, and information to a global audience. Bravo has been an NBCUniversal cable network since December 2002 and was the first television service dedicated to film and the performing arts when it launched in December 1980. For more information, visit http://www.BravoTV.com. Follow us on Twitter at https://twitter.com/BravoPR.
E! is television's top destination for all things entertainment and celebrity. E! is currently available to 98 million cable and satellite subscribers in the U.S. and the E! Everywhere initiative underscores the company's dedication to making E! content available on all new media platforms any time and anywhere from online to broadband video to wireless to VOD. E! is a network of NBCUniversal Cable Entertainment, a division of NBCUniversal, one of the world's leading media and entertainment companies in the development, production, and marketing of entertainment, news and information to a global audience.
ION Life, launched in February 2007, is the country's first multiple platform network with programming dedicated to the celebration of positive living, which will entertain, inform and inspire viewers to live up to their personal best. It features content covering fitness, diet & nutrition, pro-social and community engagement, travel & adventure, design & décor, and all categories promoting personal growth and achievement. Parent company, ION Media Networks, Inc. owns and operates the nation's largest broadcast television station group plus several TV networks including ION Television and Qubo. For more information, visit http://www.ionmedia.com.
mtvU is MTV Networks' Peabody and Emmy Award-winning 24-hour college network – the largest and most comprehensive television network just for college students. Broadcasting to 750 campuses and nearly 9 million college students nationwide, it can be seen in the dining halls, fitness centers, student lounges and dorm rooms on campuses throughout the country. mtvU is dedicated to every aspect of college life, reaching students everywhere they are: on-air, online and on the campus. mtvU programs music videos from emerging artists that can't be seen anywhere else, news, student life features and initiatives that give college students the tools to advance positive social change.
Based at National Geographic Society headquarters in Washington, D.C., the National Geographic Channel (NGC) is a joint venture between National Geographic Ventures and Fox Cable Networks. Since launching in January 2001, NGC initially earned some of the fastest distribution growth in the history of cable and more recently the fastest ratings growth in television. The network celebrated its fifth anniversary January 2006 with the launch of NGC HD which provides the spectacular imagery that National Geographic is known for in stunning high-definition. NGC has carriage with all of the nation's major cable and satellite television providers, making it currently available in nearly 70 million homes. For more information, please visit http://www.natgeotv.com.
REELZCHANNEL—TV About Movies® is the only cable and satellite network devoted to delivering entertaining and informative programming that is all about movies, including the celebrities, fashion, music and stories behind the stories. With shows featuring movie and entertainment experts, viewers get trusted insight into movies whether in theaters or at home. Owned by Hubbard Media Group, it reaches more than 60 million homes on DIRECTV channel 238, Dish Network channel 299, Verizon FiOS TV channel 233, AT&T U-verse channels 799/1799HD and cable systems nationwide. Find REELZCHANNEL in your area at http://www.reelz.com/watch.
RLTV is the leading cable network that provides information and entertainment that helps Redefine Life after 50. Its Emmy award-winning programming focuses on new pursuits, living longer, financial planning, exploration, community building, reconnecting, caregiving, mentoring, retirement, and fulfillment. It's a place of discussion about key issues and topics that matter most to Generation 50+. For more information, log onto http://www.RL.TV.
Time Warner Cable Inc. is among the largest providers of video, high-speed data and voice services in the U.S., connecting more than 14 million customers to entertainment, information and each other. Time Warner Cable Business Class offers data, video, and voice services to businesses, cell tower backhaul services to wireless carriers and, through its NaviSite subsidiary, enterprise-class hosting, managed application, messaging and cloud services. Time Warner Cable Media offers companies innovative advertising solutions. More information about Time Warner Cable is available at http://www.timewarnercable.com.
TV Guide Network is the true entertainment insider and the only network that celebrates Hollywood, its stars and the shows that fans adore. Committed to buzzworthy, breakout programming and a rich, multi-platform viewing experience, it is seen in more than 82 million homes nationwide and online at TVGuide.com, a one-stop fan destination reaching more than 23 million unique users per month. Home to some of America's favorite series, it also takes fans behind-the-scenes of Hollywood with original programming that delivers the latest news on entertainment and pop culture, as well as coverage of such events as the Red Carpet at the Academy Awards® and Primetime Emmy® Awards.
Airing Schedule:
September 25
4:00 p.m. ET / 1:00 p.m. PT – FX Network East, TV Guide Network East (DirecTV/Dish for both), REELZCHANNEL
4:00 p.m. PT – FX Network West, TV Guide Network West
8:00 p.m. ET / 5:00 p.m. PT – Retirement Living TV
1:00 a.m. ET / 10:00 p.m. PT – FX Network East (DirecTV/Dish), mtvU, REELZ
1:00 a.m. PT – FX Network West
2:00 a.m. PT – National Geographic Channel
September 26
5:00 a.m. ET – National Geographic Channel
September 27
10:00 p.m. ET / 7:00 p.m. PT – Retirement Living TV
September 28
4:00 p.m. ET / 1:00 p.m. PT – Retirement Living TV
Video On-Demand – September 25-October 31
Bravotv.com
E!
MTV
MTV.com
TVGuide.com
###