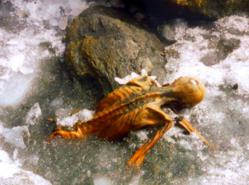 His name may become Otzi di Melago.
Chicago, Illinois (PRWEB) September 15, 2011
In September, 2011 Ötzi the Iceman's Twentieth Anniversary will be celebrated at the South Tyrol Museum of Archaeology in Bolzano, Italy. But, primarily concerned with Inca's, Aztecs and Mayans, North Americans have not paid as much attention to Ötzi as they could have.
Looking back over the last 20 years what has plagued Ötzi research has been the need to disprove endless academic speculation. For example, if a PhD, stated Ötzi was relocated after being executed by a death dealing arrow shot to his shoulder blade, the Archeological Community took that seriously - even though the mummy exhibited no signs of putrefaction. And rather than coming closer to solutions, most of the theories are non-supportive. In fact, what LNN, llc. has learned is that the only premise that unites all these theories has been snubbed.
In 1998 the only soldier in human history to be awarded a military medal for consistent accuracy in psychic functioning – the legendary Remote Viewer Joseph McMoneagle- was tasked on Ötzi. He generated the report the Pentagon would have received if they had targeted Ötzi in the interests of the people of the United States. And increasingly his findings constitute a logical explanation of Ötzi's fate.
On their Internet post, Innsbruck, Austria scientists Heiss and Oeggl stated Ötzi's leg structure [tibia] more closely resembled Mesolithic people. "This makes sense. Ötzi's people were being forced out." said S.J. Seeds. "He died with Neolithic accouterments acquired through fighting or trade, but his people had no animal husbandry, agriculture or foundry capabilities."
According to the book, Ötzi the Iceman, Ötzi's tribe was subsisting at the Langtaufers Valley east end, along a stream called the Carli Brook, in the vicinity of modern day Melago, Italy. "Tooth enamel analysis confirms Ötzi had moved once as a young man. Toward the end of his life it was happening again." said Seeds. "Ötzi died searching for a place this band of Mesolithic people could move for safer hunting."
The evidence indicates Ötzi's people were up against the more advanced Neoliths, called the Remedello, living in the area now known as Lake Resia. As hunter/gathers, Ötzi's people needed the entire Langtaufers valley to survive and were being squeezed by hunters from the Curon Venosta area.
As regards his death, the book states Ötzi approached the Tisenjoch Pass from the north, which is contrary to current archeological thought. And amazingly this path, with trail numbers, is marked in the book. "There was no execution. The 'Single Dominant Mechanism' that led to Ötzi's badly beaten body was from a fall off the Giogo di Tisa ridge into the Tisenjoch Saddle some 70 meters down." said Seeds. "The arrowhead thrust up into his shoulder blade, was from Ötzi's quiver as he tumbled down the mountainside. He hit his head on stone, went into a coma, rolled over and died."
This remarkable scenario opens a new dimension into the Ötzi enigma. If valid, Anthropologists will have a new and perhaps more fascinating window into interpreting Mesolithic/Neolithic tribal transitioning during this period, in this part of the Alps. The Evidential Details Imprint, Ötzi the Iceman by Seeds/McMoneagle; [ISBN: 978-0-9826928-1-3]
This article is available in German and Italian through translation software.
###