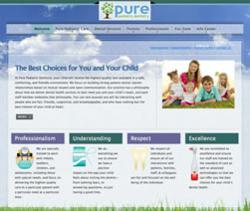 The Best Choices for You and Your Child
Atascadero, CA (PRWEB) September 15, 2011
Today, Dr. David M. Cottrell introduced a new name and website for his pediatric dental practice. "I've been serving San Luis Obispo Country for over two decades, said Dr. Cottrell. "Over that time, my practice has grown and matured, and I wanted a new name and look that reflected who we are today and emphasized our dedication to our patients and families, communities, and profession."
The practice has always been focused on ensuring people have access to top-quality oral health information as well as the best choices for optimal pediatric dental care. With that vision in mind, Dr. Cottrell turned to HiveMind Marketing, a San Jose-based marketing agency, to bring it to life.
"HiveMind Marketing has a unique approach to gaining business and community insights," said Dr. Cottrell. "They created a new name and brand for our practice that emphasizes who we are and what's important to us, as well as an ongoing marketing program that will help us reach our longer-term goals. They also built a new website for the practice that provides an easy-to-use, interactive experience to help visitors and patients make informed decisions about dental health."
The new name – Pure Pediatric Dentistry – emphasizes Dr. Cottrell's dedication to delivering high-quality dental care for infants, toddlers, children, and adolescents in a safe, comforting, and friendly environment. The Pure Pediatric™ brand promise – The Best Choices For You and Your Child – reflects his focus on building strong patient-doctor-parent relationships. Key attributes of the practice include: professionalism, understanding, respect, and excellence.
Built on the foundation of that brand promise, the practice's new parent/patient-focused website – PurePediatricDentistry.com – features a custom design, friendly navigation, and community-building features. Forms throughout the site allow visitors to contact the practice directly to ask a question, request an appointment, or refer a friend.
"Dr. Cottrell has one of the most modern, up-to-date pediatric dental facilities on the California Central Coast," said Tom Lauck, CEO & Chief Creative Officer of HiveMind Marketing. "We wanted to bring that quality and his commitment to the dental health of his community and patients online."
The practice leverages advanced, modern dental technologies to deliver better, safer dental care for children of all ages including those with special needs, such as digital X-rays that minimize radiation, laser dentistry which reduces pain and speeds healing, computer-controlled injections which are essentially painless, and age-appropriate entertainment and décor.
Pure Pediatric™ dental services include: preventive (e.g., cleanings, exams), restorative (e.g., mercury-free fillings and crowns, sealants), surgical (e.g., extractions), and hospital dentistry, as well as invisalign, orthodontics, sedation care, emergency care, and more. The entire staff is trained to provide the best in Pure Pediatric™age-specific dental care, understanding that the dental health needs of infants and toddlers are different from those of children which are different from those of adolescents.
"I love that HiveMind Marketing built our new website to provide high-quality, up-to-date information about pediatric dental services and as a general dental educational resource on the importance of oral health, particularly during childhood and adolescence," said Dr. Cottrell. "The business/agency relationship has been a positive one, and I look forward to continuing to work with HiveMind to reach my long term vision and objectives."
About Dr. David M. Cottrell
For over 20 years, Dr. Cottrell has envisioned his practice as an extension of his family, giving his patients the best possible dental care. Dr. Cottrell graduated from Pomona College in Claremont California and received his Doctor of Dental Surgery degree at Loma Linda University, Upon the recommendation of faculty, he received several awards, including the Certificate of Merit from the American Society of Dentistry for Children, the Quintessence Award in recognition of academic achievement, and election to Omicron Kappa Upsilon, the honorary dental society. Dr. Cottrell completed his specialty training and certification in Pediatric Dentistry at Children's Hospital Medical Center and the University of Cincinnati College of Medicine as well as an interdisciplinary training program at the University-Affiliated Cincinnati Center for Developmental Disabilities. He holds appointments to the Department of Surgery at numerous hospitals, and is a member of the California Society of Pediatric Dentistry, American Academy of Pediatric Dentistry, California Dental Association, Central Coast Dental Society, American Dental Association, and the American Academy of Pediatrics.
About Pure Pediatric Dentistry
At Pure Pediatric Dentistry, your child will receive the highest quality pediatric dental care in a safe, comforting, and friendly environment. We focus on building strong patient-doctor-parent relationships based on mutual respect and open communication. Our practice - located in Atascadero, CA - is dedicated to meeting the dental health needs of children of all ages throughout San Luis Obispo country, including the communities of Atascadero, Paso Robles, Templeton, and San Luis Obispo. We have a philosophy about how we deliver dental services, and each staff member embodies that philosophy. You can rest assured you will be interacting with people who are fair, friendly, supportive, and knowledgeable, and who have nothing but the best interest of your child at heart.
About HiveMind Marketing
We believe in the new rules of marketing: in integrated programs that engage prospects, creative, permission-based emails that build community, search optimized websites optimized that achieve objectives, social media that engages audiences to enhance reputation, and smart lead generation that increases revenue. We are located in San Jose, California, in the heart of Silicon Valley, and have been helping clients for well over a decade through the leadership of our principal, Tom Lauck. For more information, visit our website or give us a call at 1.408.418.4620.
###