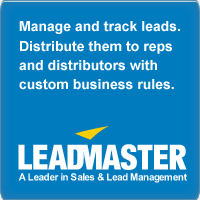 At LeadMaster, our passion is helping entrepreneurs rev up their sales and marketing machine.
Russell King, LeadMaster Founder, CEO & Startup Entrepreneur
Roswell, GA (PRWEB) September 15, 2011
LeadMaster is announcing its support of the Startup America Partnership. The Startup America Partnership was launched at the White House in response to a call to action to accelerate jobs growth and inspire entrepreneurship throughout the nation.
Starting today, LeadMaster is pledging $36 million in support of deploying customer relationship management (CRM) system licenses. Over the next year, LeadMaster will help 10,000 plus Startup America Entrepreneurs accelerate their sales and marketing using LeadMaster's cloud-based application. LeadMaster is giving Startup America Firms the opportunity to jumpstart their business with a fully functional enterprise level CRM system, and helping them customize it for their business. This provides a fast start for entrepreneurs, regardless of their current stage of their business - Startup, Rampup, or Speedup, providing them with a leading edge cloud hosted SaaS (Software as a Service) sales & marketing automation platform that will accelerate their business. LeadMaster is eliminating the cost for the first quarter and reducing the cost thereafter.
Russell King, LeadMaster Founder, CEO, and startup entrepreneur said, "LeadMaster understands that implementing a comprehensive sales and marketing CRM system is a critical success factor for any company. At LeadMaster, our passion is helping entrepreneurs rev up their sales and marketing machine. The LeadMaster Entrepreneur Startup program allows these companies to be competitive from day one, and for those companies that have moved beyond startup it provides the functionality to accelerate their business to the next level."
Since 1998 LeadMaster has been helping organizations jumpstart their sales growth with enterprise-class tools that would normally be afforded to only the largest organizations. LeadMaster empowers entrepreneurs with a comprehensive online (web access) CRM solution that provides lead management, email marketing, lead nurturing, marketing automation, sales force automation and call center functionality. LeadMaster's multi-tier user access model works with direct sales, partner sales, inside sales and call centers in a single easy to use cloud computing application.
LeadMaster resellers are revving up their support teams to help facilitate the implementation of the CRM system for the Startup America Partnership initiative.
By helping to jumpstart entrepreneurs, LeadMaster believes that Startup America Firms will need to hire more people to support their growth, thereby supporting the initiative to create high quality jobs in America.
The LeadMaster team has set an initial goal of 10,000 Startup America entrepreneurs using LeadMaster in the next 12 months. LeadMaster partners stand ready to configure CRM systems for entrepreneurs who belong to the Startup America Partnership.
About the Startup America Partnership
The Startup America Partnership was launched at the White House in response to President Obama's call to celebrate, inspire, and accelerate high-growth entrepreneurship throughout the nation. The Partnership is bringing together an alliance of major corporations, funders, service providers, mentors and advisors working to dramatically increase the prevalence and success of high-growth enterprises in the U.S. AOL co-founder Steve Case chairs the Partnership and the Kauffman and Case Foundations are founding partners. American Express OPEN, Dell Inc., Intuit Inc., and Microsoft are sponsors. The Partnership will identify, measure and report on the effectiveness of cross-sector collaboration in support of entrepreneurial ventures and its affect on job creation and growth. For more information on the Partnership, visit http://www.startupamericapartnership.org
About LeadMaster
LeadMaster offers a variety of cloud-computing software solutions:
•Sales Lead Management CRM Software

Everything you need in one easy-to-use online web-based application.
A revolutionary new way for sales reps to receive and update sales leads.
•Lead-Xtreme

It's like caller-ID for your website. Website visitor info flows into LeadMaster CRM in real-time.
•Call Center Solutions

Combining LeadMaster solutions provides a complete virtual call center system.
•Power-Call

Cloud phone switch integrated with LeadMaster provides an instant virtual call center.
•LeadMaster Voice

Click to call, power dialing and virtual phone switch integrated with LeadMaster CRM.
•Voice-Leads

Convert text leads into speech, call the rep, read the lead & offer to connect with prospect.
•E-Marketing

Drip marketing, lead nurturing, email tracking, open & clicks reporting.
LeadMaster's on-demand customizable SaaS solutions combine sales lead management software, lead tracking solutions, sales force automation tools (SFA), customer relationship management features (Sales CRM), LeadMaster Voice solutions and virtual call center solutions. This powerful web-based application has helped companies large and small from virtually every industry.
The LeadMaster sales lead management CRM solution is intuitive and easy to use, providing real-time lead capture, lead distribution, lead tracking, lead nurturing, custom reporting and email marketing. LeadMaster makes it easy to qualify and convert leads from virtually any source - landing page, call center, webinar, sales lead suppliers and more.
The LeadMaster sales lead management CRM product is straightforward and easy to learn yet has robust features like workflow automation, round-robin lead distribution, mobile access, CRM analytics and now improved Outlook integration.
LeadMaster products and services are available through a global network of value-added resellers, consultants and system integrators.
For more information visit http://www.LeadMaster.com
# # #