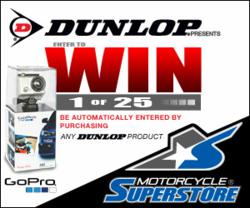 "Dunlop is really stepping up with this cool giveaway." -Sequoyah Munroe, Motorcycle-Superstore.com's Promotions Manager
Medford, OR (PRWEB) September 14, 2011
GoPro cameras have revolutionized how motorcycle riders and racers capture and relive their experiences. The new GoPro HD Motorsports HERO camera records all the riding action in full 1080p high-definition video and provides poster-quality still photography. And now, Motorcycle-Superstore.com and Dunlop Tires have teamed up to give away 25 of these incredible cameras.
"Dunlop is really stepping up with this cool giveaway," explains Motorcycle-Superstore.com Promotions Manager, Sequoyah Munroe. "Twenty-five different people are going to win the GoPro HD Motorsports HERO, one of the most versatile cameras available and valued at $300. I don't think there's a rider out there who wouldn't want one of these."
A wide-angle lens and GoPro's full line of accessories mean these HD cameras can record the ride from virtually any angle, plus the internal rechargeable battery is good for 2.5 hours of continuous footage. The GoPro HD Motorsports HERO is the best way to bring home the roost, wheelies and beautiful scenery. These are the same high-def cameras used by the AMA Pro Racing, SPEED TV and industry-leading media outlets like MotorcycleUSA.com.
For any style of motorcycle, at any cruising speed, it all comes down to having the right set of tires. Motorcycle-Superstore.com offers a massive selection of Dunlop hoops to transport any dirt bike, street bike, cruiser or ATV. Purchase of any Dunlop tire or tires will automatically enter the purchaser in the sweepstakes to win the GoPro HD. Visit http://www.motorcycle-superstore.com/Dunlop-GoPro to enter directly and check out the Terms and Conditions for official giveaway rules.
###