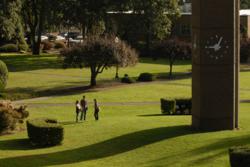 Newberg, OR (PRWEB) September 14, 2011
George Fox University again received a first-tier ranking and "Best Value" listing from U.S. News & World Report magazine in its 2012 "America's Best Colleges" issue.
The Newberg, Ore.-based university ranks 25th out of 118 in the "Best Regional Universities" West category.
George Fox also is ranked in the magazine's "Great Schools, Great Prices" listing. George Fox is ranked 13th in its category for value, based on a formula that relates a school's academic quality to the net cost of attendance. "The higher the quality of the program and the lower the cost, the better the deal," says the magazine. Only schools ranked in the top half of their categories are considered.
The magazine's 2012 Best Colleges guidebook will be on newsstands Sept. 20.
Colleges in the "Best Regional Universities" category provide a full range of undergraduate and master's-level programs, but few doctoral programs. Nationally, the category includes 626 universities and colleges, with 118 ranked in the 15-state western region.
The rankings – including the component information on each college's score – are available online at usnews.com.
This is the 23rd year George Fox has been ranked as one of "America's Best Colleges" by U.S. News & World Report. The university made the magazine's first ranking in 1988.
George Fox University is ranked by Forbes among the top Christian colleges in the country. George Fox is a Christian university classified by U.S. News & World Report as a first tier regional university and a "Best Value" school. More than 3,500 students attend classes on the university's campus in Newberg, Ore., and at teaching centers in Portland, Salem, and Redmond, Ore., and Boise, Idaho. George Fox offers bachelor's degrees in more than 40 majors, degree-completion programs for working adults, five seminary degrees, and 11 master's and doctoral degrees.
Contact:
Robin Baker, President
503-554-2102
###