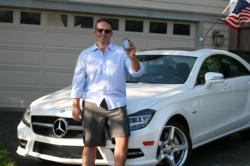 Lightyear Wireless has been a true blessing to me and my family!
Santa Rosa, CA (PRWEB) September 15, 2011
Louisville KY based Lightyear Wireless has announced Ben Sturtevant as their #1 income earner for their 3rd straight year. Mr. Sturtevant was named the top earner for Lightyear in 2009, 2010, and 2011. He has grown a team that exceeds 20,000 distributors nationwide and is ranked among the top .5% of income earners in all of Network Marketing.
When asked about this latest accomplishment Mr. Sturtevant simply replied with modesty. "I'm blessed to have an amazing team working with me and an outstanding company backing us."
Lightyear Wireless launched their wireless opportunity in July of 2008. According to Mr. Sturtevant, the initial launch was typical of most MLM start-ups. "The first couple of years were difficult. Our company had to learn through the school of hard knocks how to navigate the wireless world but now everything has come together. Our quality of phones and the sheer quantity is incredible. We started in 2008 with 3 phones and just a couple of wireless plan options for customers. Now we have in excess of 15 device options, no-contract wireless, contract wireless, wireless internet, MiFi, and even wireless tablets! There couldn't be a better time to be a part of Lightyear."
It's clear that Ben Sturtevant is excited about Lightyear. We asked him why he feels this wireless opportunity makes such a good fit for him. "It's simple really. In a tough economy people need to save money and they need to make it. We help people do both!"
Lightyear Wireless offers an ingenious concept to their distributors. By simply referring 3 customers to their service a distributor can qualify for free wireless service! A customer can also qualify for free service by referring 5 wireless customers. This "You + 3 = FREE" program has created quite a buzz in the MLM industry and this combined with Lightyear's amazing compensation plan has attracted some serious players in the profession.
If you would like more information about Lightyear Wireless you can contact Ben Sturtevant by visiting his website at http://www.lywireless.com.
###