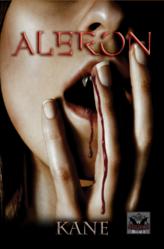 New York, New York (PRWEB) September 15, 2011
As of late, author Kane is celebrating a string of successes. His book, Aleron, has received the Reader's Favorite Award in the Best Fiction-Horror category and will soon be adorned with the prestigious gold seal on its cover. He will travel to Miami to formally receive the honor at the ceremonies in November 2012…He received news of the Reader's Favorite win as he prepared to join the Decatur (Atlanta) Book Festival as both an exhibitor and featured speaker—a well spent weekend by any account as he sold a record number of books as he cultivated a fresh new following. He says, "The Decatur Book Festival was an amazing time, buoyed by the announcement that Aleron won the Reader's Favorite Award. For a debut novel, we have gotten some great momentum going. I'm delighted that people have responded so well to the book and excited about the possibilities of what's next!
Aleron is the first in the 5-part vampire series, Strigoi, meaning "troubled souls of the dead rising from the grave". Set in the 18th century, the novel chronicles the life of the vampire Aleron from his seduction into immortal life by his mother-lover Mynea to his coming into his own strength and infinite power as a vampire and his experiences going forward with this knowledge. The novel is both an historical excursion and a tale of deceit and passion between the undead. The reader travels with him through time and through his challenges as he is continually adapting to his new life.
Look for Kane in the weeks to come --as a presenter at the African American Literary Awards on September 22nd in New York City as well as at the Southern Festival of Books in Nashville, October 14th-16th. For more information on the book signings in your area and for more information on Aleron, visit http://www.aleron.co. For more information on the Reader's Favorites Awards and to find out the winners (on September 1st), visit: http://readersfavorite.com/2011-award-contest-winners.htm. Aleron can be purchased at Amazon, IBooks, Barnes & Nobles, Kindle, Nook, and everywhere else books are sold.
To schedule an interview with Kane or for other media inquiries, contact Joy Doss at 646.489.4432 or joy(at)eastwestpr(dot)net.
###