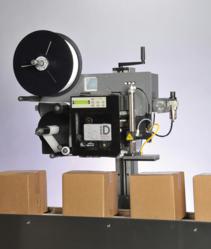 Fort Worth, TX (PRWEB) September 14, 2011
ID Technology, powered by Pro Mach, today announced the launch of the IDT Model 252 Label Printer Applicator, the newest addition to their extensive line of Label Printer Applicators. The IDT Model 252 is the latest evolution of the world's highest selling Label Printer Applicator.
The next generation IDT Model 252 Label Printer Applicator features the same modular design and robust construction companies have come to expect from the IDT Model 250, however it goes one step further with the integration of ID Technology's revolutionary Centerline Modularity™ design philosophy. The goal of Centerline Modularity is to create an easily identifiable reference point for default calibration in product identification machinery. This is accomplished through a proprietary process that identifies and catalogues all possible points of adjustment in a machine, and then designing to eliminate as many of those adjustment points as possible. The result is increased uptime and lower operating costs for machinery using this design.
"Working with our customers and leading industry associations, ID Technology was able to determine that many issues that resulted in downtime were caused by unnecessary tinkering or adjustments to the printer applicator," said Alan Shipman Vice President, ID Technology. "So we tasked our design team with developing a system that would significantly reduce or eliminate the need and ability to manually adjust ID Technology machinery."
The IDT Model 252 Label Printer Applicator features a new touch screen User Interface for easier programing, a redesigned rewind motor "module" that is hot swappable, a revolutionary plasma coated air assist tube that eliminates label sticking, and an optional service position Tamp Module. Additionally, the IDT Model 252 Printer Applicator can be outfitted with the same application modules as the Model 250 eliminating the need for additional training of plant personnel, as well as the ability to swap out modules among machines.
"We founded ID Technology on the idea of providing our customers with products that offer maximum uptime and low total cost of ownership," said Bob Zuilhof, president of Identification and Tracking, Pro Mach, Inc. "And the Model 252 is just another example of our unending effort toward this goal."
About ID Technology
ID Technology, powered by Pro Mach, is a manufacturer and integrator of labeling, coding and marking systems, as well as, peripheral equipment, supplies and service. For more information or to locate one of the ID Technology nationwide sales and service centers, call 888.438.3242 or visit our website at http://www.idtechnology.com.
###