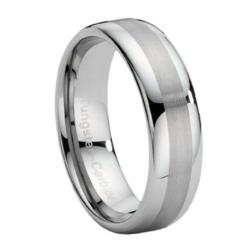 To celebrate their First Anniversary Sale, MWR is slashing prices on mens tungsten rings, titanium rings and many designer men's rings in every collection.
Jensen Beach, Fl (PRWEB) September 14, 2011
Owned and run by Roy and Judy Devine, Mens-Wedding-Rings.com has become known as one of the best retail marketers in the industry, and a leading online resource for affordable mens rings. The "First Anniversary Sale" at Mens-Wedding-Rings.com will mean huge price reductions on many of their best-selling mens wedding rings plus new collections of alternative wedding bands, designer silver and designer platinum mens rings.
As their one year anniversary approaches, Mens-Wedding-Rings.com (MWR) is gearing up for the largest sale in their history. In just one year, MWR has expanded its collections of men's rings to include gold, sterling silver, titanium, tungsten, cobalt, palladium and platinum. But Mens-Wedding-Rings.com didn't become an overnight success just by offering a great selection of mens rings. Owners Roy and Judy Devine have been entirely focused on satisfying their customers since day one.
Competitors in this space were initially shocked to learn that Mens-Wedding-Rings.com would be offering a lifetime warranty. But that's not all – MWR also offers a 30-day money back guarantee on every ring they sell and they offer free worldwide shipping. It is this type of dedication to customer satisfaction – plus excellent prices on a wide range of mens rings - that has made MWR such a retailing success story.
With their First Anniversary Sale, Mens-Wedding-Rings (http://www.Mens-Wedding-Rings.com) is giving engaged couples another good reason to celebrate. This landmark sale event means shoppers can expect to see prices slashed on an endless selection of men's rings in gold, silver, platinum, tungsten, titanium, cobalt and palladium at extremely competitive prices. Plus, some newer collections of mens tungsten rings and designer rings in sterling silver and palladium have been added just in time for this sale. With such incredible prices and a focus on customer satisfaction, it's no wonder that Mens-Wedding-Rings.com has been so successful after just one year.
About Mens-Wedding-Rings:
Mens-Wedding-Rings.com is a niche online jewelry store for men's wedding rings and bands. In this specialized retail environment, customers find the best quality men's traditional and alternative wedding rings. From major designer bands in traditional and alternative metals to non-designer rings in stainless steel, titanium, tungsten, sterling silver and cobalt, Mens-Wedding-Rings.com is a one-stop source for mens wedding bands and rings. Owners Roy and Judy Devine make it their goal to ensure their customers are completely satisfied, so they only sell high quality rings at excellent prices. All of their rings come with a 100% satisfaction guarantee, and their customers have come to expect the highest standards of service, selection and quality when they shop at Mens-Wedding-Rings.com. MWR offers the best selection of mens wedding rings on the Internet, many of which are available through size 20.
Contact information:
Roy & Judy Devine, Owners
Mens-Wedding-Rings.com
800.676.0363
http://www.mens-wedding-rings.com
Email: roy(at)mens-wedding-rings(dot)com
###