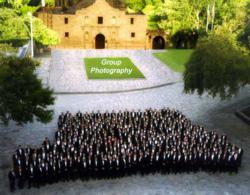 One attendee was overheard saying, "Amazing to get the photo back so fast"
San Diego, CA (PRWEB) September 14, 2011
Group Photography Services by Professional Images Photography announced their ability to print up to 8x10 prints onsite with logo and text for their Convention and Corporate photography services.
The Convention season is in full swing and many meetings require quick turn around for prints and with the latest in Digital Technology Professional Images is there to deliver. Recently in San Diego, Professional Images was presented with a challenge to photograph 25 groups that range from 40 to 200. Normally the print time for an 8x10 would require a minimum of a week to process and print.
Joseph Rodriguez owner of Professional Images Photography digital division provided printers that produced 8x10's at a rate of 2 per minute per printer and with 420 8x10's needed. Having 4 printers onsite, the task was done in less than 2 hours. Each photo had a logo and text the customer provided the week before.
The savings realized was tremendous. Postage, Shipping, Employee Labor on the part of the company was saved and most importantly the attendees received the photos after the reception. One attendee was overheard saying, "Amazing to get the photo back so fast"
Just one of many comments reflect Professional Images Photography mission to provide the highest in quality customer service. As the attendees walked by the table to pick up their group photo the smiles said it all and the client was beaming.
Onsite printing has been around but Professional Images Photography commitment to bring something different to the arena of Convention and Corporate Photography and is becoming the benchmark for meeting planners in the Corporate, Convention, Trade-show and any industry to look for in companies that provide similar services.
About Us:
Professional Images Photography has been providing Convention, Corporate and Trade-show Photography since 1987. Based in San Antonio, TX with offices in Washington, D.C., New York, NY, Houston, TX and coming soon, Las Vegas, NV
###