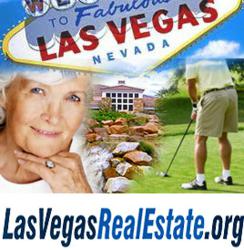 Las Vegas Real Estate is Popular with Retirees
(PRWEB) September 14, 2011
Retirees relocating to Sun City Las Vegas for the affordable prices, active adult lifestyle and world class health-care are also discovering a second chance to rebuilt their retirement portfolio. According to data from Trulia and confirmed by LasVegasRealEstate.org, Las Vegas may have the best price-to-rent ratio in America and old school investors are showing an interest to re-invest in Vegas housing for monthly cash flow.
Ashley McCormick of Realty One, Nevada's number one real estate company, says most her retiree clients are on a fixed income so the first point of interest and attraction of the current Las Vegas real estate market is to find a home for themselves. Retirees doing their research are choosing Las Vegas homes for overall affordability and lifestyle. Las Vegas Sun City communities are still a popular request and now more than ever as prices are starting at just $95,000.
Retirees who came here for affordable housing due to financial concerns or a fixed income are discovering and extending there own success to help generate a retirement income. Over the last five years most people who thought they had a stable retirement took huge loses in pension plans and stocks. A recent survey by the Employee Benefit Research Institute indicated that one in three retirees had dipped deeper than planned into their savings to pay for basic expenses in 2011.
With Las Vegas real estate homes and condo prices at 20 year lows and the rental prices in some areas above 10% cash flow - investors, foreign buyers and the retirees are getting back into buying rental properties. McCormick says that for the retirees they show less concern about potential appreciation as it is about immediate cash flow.
Ashley McCormick has recently activated a toll free line due to the amount of relocation clients and can be reached at 1-888-920-2292. MLS listings for Las Vegas real estate homes for sale and communities such as Sun City Las Vegas can be viewed at http://www.LasVegasRealEstate.org
###