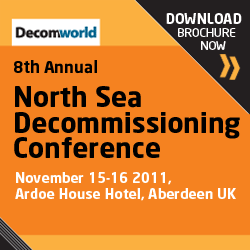 (PRWEB) September 15, 2011
According to sources at DecomWorld by 2030, £24-30billion is projected to be spent on decommissioning around 470 offshore oil and gas installations, 10,000 km of pipelines, 5,000 wells and 15 onshore terminals on the United Kingdom Continental Shelf.
This makes the next two years the most important for service providers to formulate contract-winning business plans and for operators to prepare for greater competition within the supply chain.
With mature fields becoming less economically viable the industry will witness a forecasted 120 installations being decommissioned in the southern North Sea alone over the next decade - some 10 to 15 fields per annum. As a direct consequence, DECC is hiring more staff to cope with the demand for approvals, resulting in more programmes on the horizon for decommissioning service providers.
Operators such as Shell, BP, Talisman, ExxonMobil and Chevron understand the upcoming challenges in the North Sea. They know that preparation now is vital. They'll be at the 8th Annual North Sea Decommissioning Conference, hosted by DecomWorld, to share their experience and learn what the industry can offer them to make their programmes run cheaper, better, faster.
They will be joined by experienced specialists in the decommissioning industry such as Tetra Technologies, AF Decom and Weatherford. These service providers are winning contracts all the time, so now is the time to learn from the best and drive business development forward.
Meticulous preparation and a clear understanding of what lies ahead is vital for operators and contractors to cope with a more demanding industry. In order to do that, recent challenges impacting offshore decommissioning must be understood, including:

Well plugging and abandonment
Supply chain management
Salvaging and recycling options
DecomWorld is helping to tackle these major issues at the heart of offshore decommissioning at their 8th Annual North Sea Decommissioning Conference. There will be unparalleled participation from key government departments combined with ample expert insight, plus the latest business opportunities, new technologies, financial issues, projects going ahead and lessons learnt.
The conference is taking place in Aberdeen, Scotland, on November 15-16, 2011. For more information follow: http://www.decomworld.com/nsd/download-brochure.shtml
There you will find more details including the conference agenda, speaking organisation and registration options.
If you have any questions, please get in touch.
Jack Shillito
Senior Industry Analyst
DecomWorld
+44 (0) 207 375 7598
###