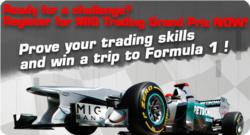 Neuchatel, Switzerland (PRWEB) September 14, 2011
Forex broker MIG BANK is pleased to announce the official opening of registration for the 3rd MIG Trading Grand Prix!
As always, the MIG Trading Grand Prix has plenty of prizes and rewards for those who trade well. Register now for the chance to win:
1st Prize:
All expenses paid trip for 2 persons to the Abu Dhabi Formula 1 Grand Prix, including paddock club access and hotel accommodation for the weekend!
2nd Prize:
A signed replica handmade scale model of the Mercedes GP Petronas Formula One car
3rd Prize:
A signed Michael Schumacher racing helmet
In addition, the top 10 winners will receive official MIG BANK - Mercedes GP Petronas partnership Caps!
To open a demo trading account and to automatically enter the competition for a chance to win the fantastic prizes from MIG BANK, please click here to be taken to the registration page.
With thousands of participants taking part in 2009 and 2010, 2011 is gearing up to be the biggest trading championship ever - and MIG BANK is proud to announce that registration is now open.
Last year's winner, Mr. Wei Zhang received the MIG BANK star prize to watch the Shanghai Grand Prix from the comfort of the exclusive paddock club. Mr. Wei Zhang positively traded a demo account from the initial $100,000 to over $3million!
Mr. Wei Zhang traded confidently, weighed risk and made secure, informed transactions resulting in a strong and consistent trading portfolio history.
What can traders expect in 2011?
If 2010 is anything to go by: competition, determination, fuelled excitement and a photo finish as the competitors cross the line - right up to the final trades!
It certainly won't be easy. The research and trading commitment for 1 month will be tense and active from the very first corner. And as always, MIG BANK wants to see consistent, secure trading with long term strategies to ensure the best results... and ultimately the MIG BANK star prize!
Click here to join the MIG Trading Grand Prix now.
###