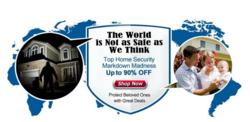 HongKong (PRWEB) September 15, 2011
DinoDirect is offering a sale on top surveillance systems. By according homes proper and adequate security measures, home owners can rest assured that their loved ones are protected at all instances from any likelihood of burglary or property loss.
The world is an unpredictable place and the reality is that not everyone is willing to put in the effort when it comes to acquiring wealth. Home owners are constantly worried about losing their hard-earned wealth and most of all the safety of their loved ones. Fitting home surveillance systems and put a step closer towards ensuring that family and property are always protected at every instance. DinoDirect, an online retailer, is offering up to 90% discounts on top home surveillance systems, which every home owner should invest in.
"We have done the research and testing for you and have brought in only the top of the line products," says the store's CIO. This statement can be attested by the range of hidden spy camera which the retailer stocks. These devices come in different packages and bundled with varied functionalities. They are available in the compact watch spy camera models to intricate models which are integrated within other electronic devices. Regardless of the package they come in, these devices are designed to help the user covertly keep a watchful eye on their surroundings.
There are a wide range of security surveillance systems available in the market. Home owners should also consider having the power door lock fitted in their houses. Burglars are known to use high-end tools to pry doors open, in order to illegally gain access to homes for their devious actions.
A house can be accorded the best of protection, but it is the occupants of the house who should have the highest level of protection extended to them. Home owners with children, particularly toddlers and newborns, know how important it is to ensure that their homes are accorded protection. While children should be watched at all times, it is impossible to keep eyes on them at all time. The baby monitor is one device which every parent should have at hand. This monitoring device allows people to carry out chores in other rooms and keep a close eye on what child is up to. There are also a wide range of these devices available in the market, in line with technological advancements, and some come with integrated cameras as well as other added features.
Before embarking on a search for top home security systems, it is wise to consult with an expert to help people determine particular security needs. Homes are built differently and similarly have varied security needs. For instance, smaller homes may require less security devices installed in them while homes with children may require added security systems accorded to them.
However, regardless of home's security requirements, just take up DinoDirect's discount sale in order to acquire top notch security systems at affordable prices.
###