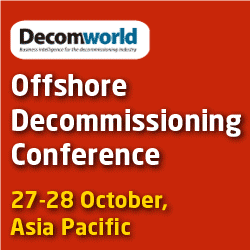 (PRWEB) September 15, 2011
Earlier this year DecomWorld announced exclusive details regarding the $40 billion market expansion of this new industry, as well as key timelines of when multi-billion dollar decommissioning projects will be announced across the region. In the past 18 months alone Iwaki Petroleum, PTTEP and PETRONAS have all executed successful brownfield projects – and for 2012 more operators are set to build a solid decommissioning supply chain to tackle larger and more challenging projects.
In 2012 a key pilot decommissioning project will be executed by PETRONAS in Malaysia. As a globally recognised oil giant, this project has attracted huge attention from key contractors looking to secure lucrative new contracts, as it is suspected that $billions in multiple decommissioning projects from Petronas will follow suit after January of 2012 causing a further boom in this already lucrative market.
PTTEP also hold a strong market share in the region and have $billions in liability which will feed into regional and international contractors over the next five years. Following the successful decommissioning of the West Atlas rig, there are huge amounts of related programs, including major salvage projects that need to take place across the Montara field in 2012. This has attracted contractors from Asia, USA and mainland Europe to designate extra resources to the expanding Asia Pacific decommissioning market.
With over 617 platforms that need decommissioning in the near future it is vital that an efficient decommissioning supply chain of experienced contractors is established in order for Asia Pacific operators to tackle removing these offshore installations as Shell, Petro Vietnam, Chevron, Eni, ExxonMobil, Hess, Pearl Oil, PETRONAS, PTTEP, Petro China and many more face new decommissioning challenges for 2012.
In order to best plan how to build a decommissioning strategy to mitigate the multi-billion dollar risk that these operators face, the senior level decision makers of each company are meeting key contractors, regulators and decommissioning experts at the 3rd Annual Offshore Decommissioning Conference, Asia Pacific in Singapore on the 27-28 October.
If you are serious about decommissioning and wish to join these key organisations at this year's annual meeting, you can find out more information on the conference at http://www.decomworld.com/asiapac/download-brochure.shtml
###