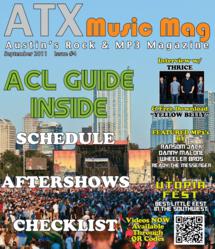 The conventional attitude about print is that it is a dying industry, but in my opinion, they just need to adapt to current technology, and we're happy to be here first
Austin, Texas (PRWEB) September 14, 2011
With technology changing the way people receive, send, and view media, one might figure the print media industry would soon cease to exist. The conventional attitude about print is that it is a dying industry, "but in my opinion, they just need to adapt to current technology, and we're happy to be here first", stated creator of ATX Music Mag, Jeremy J. Davis.
With the introduction of "QR Codes", ATX Music Mag readers are able to view music videos, footage of local shows, and listen to mp3's on the spot by just having a magazine in their hands along with a smart phone (iPhone or Android) and a QR Code app. ATX Music Mag is "the first local music magazine in the nation to release free mp3's, music videos, and video interviews of local and international bands through QR codes" says Davis.
ATX Music Mag is an Austin, Texas based music magazine that launched in March 2011. Since its inception, ATX Music Mag has managed to capture and make popular the forgotten artistic fashion of Austin's local artists.
For far too long, it appears local artists have been overlooked by the "mainstream media", which seems to only push what is "popular" on the radio and on television. ATX Music Mag crosses that boundary by promoting local musicians with the mix of print and new age technology.
The implementation of these QR Codes are a great way to promote musicians through print mediums.
"You can't judge a band only by the way they look ... readers should be given the opportunity to hear their music and watch their live performances too", stated Davis.
Within three issues, ATX Music Mag has interviewed and gained support from very influential artists such as Against Me, Simple Plan, Pepper, The Expendables, Tokyo Police Club, Dwarves, Face to Face, The Adicts, and Relient K. Alongside exclusive content, local artists are also included in each issue, sharing their bios, videos, and free mp3's through QR Codes.
Just recently, ATX Music Mag had the privilege of covering "Vans Warped Tour 2011", offering interviews from global acts, which are all available on the site: http://www.ATXMusicMag.com. Additionally, the Austin City Limits Festival has invited ATX Music Mag to cover the festival from September 16-18 at Zilker Park.
The September issue is scheduled to be released at ACL and will entail the full 3 day schedule at ACL, an interview with Thrice along with an mp3 released by them titled "Yellow Belly", and free mp3's of four local bands.
ATX Music Mag has also gained the early support of over 20 local businesses and all current sponsors are always listed on the homepage.
You can also view the digital versions of every issue at http://www.ATXMusicMag.com
###