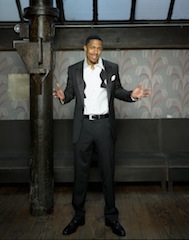 "I created NickCannon.com as a one stop destination for my fans and anyone interested in pop and celebrity culture. I plan on making the site a premiere destination for where I'll share it all."
Los Angeles, CA (PRWEB) September 14, 2011
Nick Cannon has revamped his official website, NickCannon.com, evolving it into a space for all things pop culture, announced EQAL today. As a leader both in front of the camera and behind in every aspect of the entertainment industry - from music and radio to television and film – Cannon has the inside scoop to put out new and exclusive content about everything in entertainment. With the help of EQAL, a media company that powers influencer networks around celebrities and brands, the interactive site is designed with a retro newspaper style that will be easy to navigate for users. Nick and his editorial team will update the site daily with breaking celebrity news and pop culture trends including what to watch, new music and much more. The site will also introduce exclusive interviews with today's hottest stars in entertainment in addition to behind-the-scenes access to anything and everything Nick Cannon touches.
"I created NickCannon.com as a one stop destination for my fans and anyone interested in pop and celebrity culture. Between being on TV and having my own radio show, to projects in film and music, I am always at the forefront of what's happening now. I plan on making the site a premiere destination for where I'll share it all, from what's going on with the world to what's going on with me." says the multi-media mogul and entertainer.
"Nick Cannon is an ideal artist to utilize the tools that EQAL can provide," observed Miles Beckett, co-Founder and CEO of EQAL, "We create individual networks around the personality that allows them to reach out directly to their fans and for the fans to interact with the talent and to join the community that builds around him. Added Greg Goodfried, co-Founder and President of EQAL, "Nick is such a prolific talent with many different followers. With NickCannon.com, we can bring together all of his audiences into one place to get Nick's take on what's happening in the world of entertainment."
About Nick Cannon:
Cited by People Magazine as one of the 'Top Ten most successful young people in Hollywood' and featured on the Cover of Black Enterprises' 40 Under 40, Nick Cannon is a successful, multi-faceted entertainer: film star, TV and radio host, comedian, musician, writer and executive producer of his very own hit TV shows.
A San Diego native, Cannon was the youngest staff writer in television history at the age of 17. This path culminated in the creation of "The Nick Cannon Show" which he starred, directed and executive produced, earning him his first Kids Choice Award. His film credits include 'Men in Black II,' 'Drumline,' 'Underclassman,' and 'Bobby,' which earned him a SAG nomination for 'Outstanding performance' and honored at the world renowned Cannes Film Festival with the 'Breakthrough Actor of the Year' award.
He has hosted the Teen Choice Awards for FBC and was the host/DJ for ABC's highly successful Presidential Inaugural Neighborhood Ball and returned this season for the 3rd year as host for NBC's hit show, "America's Got Talent" which has helped them draw in record breaking viewership.
Cannon has his own multi-media company called NCredible Entertainment, which produced his first stand up comedy special, 'Mr. Showbiz' that aired earlier this year on Showtime, making it the cable network's highest rated special in years. With a long list of TV shows and films in development through NCredible, Cannon also serves as the Chairman of TeenNick, Nickelodeon's television network aimed at the teen audience and host of his own NY morning show, 'Rolling with Nick Cannon' on CBS's 92.3 FM and nationally syndicated weekend Top 30 countdown show, 'Cannon's Countdown.'
About EQAL.com:
EQAL is a media company that builds influencer networks around celebrities and brands. Their celebrity and brand networks include the official websites and social media accounts for Tori Spelling, Lauren Conrad, Randy Jackson, Elle and Blair Fowler and the brand partnership with Philadelphia Cream Cheese that recently won a Gold Effie Award. Their celebrity networks generate close to 200 million impressions per month and reach 15 million people. EQAL's "hub and spoke" strategy focuses on building an integrated media property by increasing social media numbers, driving traffic and engagement to the celebrity's official website, and providing new revenue opportunities. EQAL was founded by Miles Beckett and Greg Goodfried, creators of the online sensations lonelygirl15, KateModern (with Bebo) and Harpers Globe (with CBS television). The two are widely credited as being the first to create quality serial programming for the internet, for integrating products into online programming and for originating the first "online to on-air" programming with a network television show. Miles and Greg are frequent speakers on digital entertainment and brand integration in the online space as well as the future of entertainment on the internet and beyond. The company continues to evolve at the rapid speed of the medium as it combines quality content, celebrity influencers and technology.
For NickCannon.com, please contact:
Jill Siegel at jillsiegelnyc(at)gmail(dot)com
917.214.1710
# # #