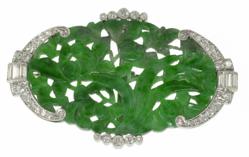 "If you're an antique jewelry fan in Cincinnati, this will be a must attend event!" states owner, Lee Krombholz.
Cincinnati, Ohio (PRWEB) September 15, 2011
Krombholz Jewelers has had a love affair with antique jewelry for its entire 71 year history. The company founders, Mallie and Herb Krombholz, were avid antiquers collecting such things as brass keys and locks, art glass, guns and even automobiles. Three generation of Krombholz have bought and sold antique and estate jewelry as an intriguing part of their retail jewelry business.
On Friday, October 7th and Saturday, October 8th Krombholz Jewelers is transforming their showroom into an antique jewelry fan's dream! All of their cases will be filled with solely antique and estate jewelry. Eight select dealers from across the United States are participating is what Krombholz hopes to be an annual event.
On hand will be jewelry from the 19th and 20th centuries including platinum Art Deco jewels, sleek designs from the Retro Period, and charming gems from the Victorian Period. One of the dealers specializes in fine costume jewelry while another presents jewelry made by some of the finest jewelry designer houses including Cartier, Harry Winston, Buccellati and Tiffany.
"I hope there are some nice examples of Buccellati's work in the collections. I love to study the details and textures that they include in their designs!" says Krombholz owner, Lee Krombholz. Speaking to the range of jewelry offerings, Lee knows that there will be something for every jewelry lover "If you're an antique jewelry fan, this will be a must attend event!"
Krombholz's hours during this event are from 10-7 on Friday Oct 7th with cocktails from 5-7 and 10-4 on Saturday. For more information call Krombholz at 513-891-1930 or go to their website krombholzjewelers.com.
###