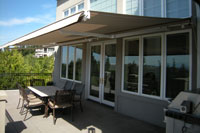 Bellevue, WA (PRWEB) September 20, 2011
Eastside Tent & Awning is pleased to offer retractable awnings for Bellevue, Issaquah, Bothell, Woodinville and Sammamish.
Aside from acting as attractive patio covers, retractable awnings also reduce energy costs. They can easily be adjusted to provide sun protection when you need it in the summer, but let it in to help warm your home in the winter. Awnings are an excellent way to add value and comfort to your home.
Eastside Tent & Awning has been providing the Bellevue, WA area with awnings, boat covers and flags for over 40 years.
###