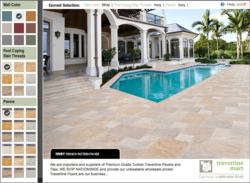 Visually speaking, we wanted our clients to have a better understanding of the material and to feel comfortable ordering Travertine from the internet
Miami Beach, FL (PRWEB) September 16, 2011
Travertine Mart announced today that it has just unveiled a Virtual 3D Patio Designer for Travertine Pavers - a first in the natural stone industry. The new Patio Designer allows clients to see first hand how their Travertine Pavers, Tiles and Pool Coping will look when installed around a pool patio area. Travertine Mart has included nearly all of their color range, including Ivory, Walnut, Noche, Gold, Country Classic Ivory Swirl, Leonardo, Autumn Blend and even throwing a marble paver into the mix, Pearl. All colors can be seen in either a 16x16 size or a French Pattern – a classic 4-piece pattern that has been in existence since Roman times.
"Visually speaking, we wanted our clients to have a better understanding of the material and to feel comfortable ordering Travertine from the internet," said Evrim Oralkan, President of Travertine Mart. "With the new Virtual 3D Patio Designer, we feel confident that we will be able to do just that."
In addition to the Patio Designer, Travertine Mart has developed a Floor Finder software which can be found on their new highly-interactive website. The Floor Finder allows clients to find the most appropriate stone for their project. Another new tool is the Freight Estimator which allows clients to budget shipping costs while using the My Estimate feature. "What sets our Freight Estimator apart is its accuracy," says Mr. Oralkan.
Business is booming for Turkish Travertine suppliers in the U.S. lately, thanks in part to Turkey's commitment to providing exceptional quality Travertine at a great value.
About Travertine Mart
Travertine Mart is a direct importer and wholesaler of Premium Grade Travertine and Marble natural stone products from Turkey. With a rich history and focus dedicated to high-end residential and commercial real estate projects, they approach the highest level of customer service by working closely with homeowners, interior designers, developers and landscape architects.
Travertine Mart offers a wide range of Travertine Pavers, Travertine Tiles and Pool Coping, tailoring each project around the client's specific needs and desires, while integrating specific ideas for each individual project.
For more information about Travertine Mart please visit http://www.TravertineMart.com
###