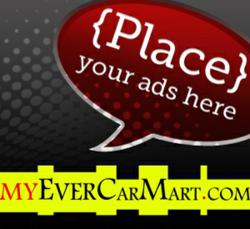 Our mission at MyEverCarMart.com is to be your ultimate online solution for buying and selling, certified and used cars.
(PRWEB) September 16, 2011
Malaysia used car buyers and sellers discover everything they want to know about vehicles in one single place. In 1597, Sir Francis Bacon said, "Knowledge is Power", which still rings true for customers who are ready to buy or sell a Malaysia used car. Both buyers and sellers can find all the information they need to make an informed decision by exploring online car classified websites like Myevercarmart.com.
Instead of driving around town to look at cars and check prices, buyers will find a wide variety of vehicles for sale in one convenient place: on the home or business computer. The same holds true for those seeking to sell a car. When picking a sales price, there is no need to drive around to research comparable cars when the seller can check similar car prices at an online classified website like Myevercarmart.com.
Car buyers and sellers will both find helpful information under categories like "The Latest Cars", "Popular Cars", "Latest Articles", and by reading the car reviews. These online tools empower people to make educated decisions because they can explore relevant and updated car details and prices. Vehicles are searchable by model year, brand, and model type, such as passenger car, SUV, or sports car. Customers can explore cars by gear shift type, whether manual or automatic, and by locations alphabetically from Johor to WP Putrajaya. It is also possible to compare the difference between a price submitted by a dealer against a price submitted by an owner. That makes it easy to find the best deals if purchasing, and what price to ask for a car, if selling.
Anyone can use online car classified websites like Myevercarmart.com. The first step is to register, which is simple and straightforward, then explore the website with no driving time involved. Whether listing a car for sale or contacting an owner or dealer to purchase, the process is very straightforward. To list a car, log into the administration panel and click "add car", and the rest is self-explanatory. To remove a car from the website log in to the "admin panel", click the "SOLD" button on the seller's individual page, and the ad will be removed. To contact an owner or dealer about purchasing a car, click the link on the individual car details page.
With an online classified car website like Myevercarmart.com, the research process is accomplished in one single place, on a computer. Since there is no need to drive around town looking for different vehicles to compare, the customer will save time, gas, money, and frustration. Both buyers and sellers will find all the information they need to make a knowledgeable decision about purchasing or selling a vehicle. Buyers will gain knowledge about what to buy, where to buy it, and how much to pay. Sellers of a Malaysia used car will be well-informed about the car market so they can make intelligent decisions about listing prices, and all this is easily accomplished without leaving the home or office.
For more information Contact Us Or visit us MyEverCarMart
###