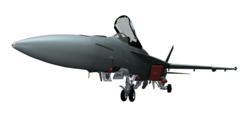 A key to the program's success was the very open, collaborative environment that existed among all the IVEMT stakeholders, including Boeing, DiSTI, the U.S. Navy, and RAAF.
Orlando, FL (PRWEB) September 20, 2011
The DiSTI Corporation, a pioneer in the development of 3D virtual maintenance training technology, and The Boeing Company, have successfully delivered two F/A-18E Integrated Visual Environment Maintenance Trainers (IVEMT) ahead of schedule and within budget. Delivery of the IVEMTs by the Naval Aviation Training Systems program office to the Royal Australian Air Force (RAAF) will provide the simulation-based maintenance training support needed for the Australian Super Hornet F/A-18E/F jet aircraft.
The IVEMT is a 3D fully interactive virtual maintenance trainer that allows military personnel to navigate within an immersive virtual environment, interact with the virtual aircraft and support equipment, and perform over 400 simulated aircraft maintenance procedures. With two large format touch screen interactive displays, this trainer provides a realistic "look and feel" while performing the actual aircraft procedures, resulting in improved retention of knowledge and skills by the students.
DiSTI provided the high fidelity interactive graphics and virtual environments to The Boeing Company of St. Louis, MO., the prime contractor and manufacturer of the IVEMT. DiSTI's expert designers and engineers were able to accurately replicate the entire aircraft, including over 60 unique pieces of support and test equipment, by using DiSTI's latest in-house maintenance training technology. This leading edge technology includes DiSTI's real-time Virtual Maintenance Training Environment™ (VMTE), Virtual Environment Software Development Kit ™ (VESDK), and fully interactive animated schematics developed using DiSTI's GL Studio®.
Core Boeing technologies that supported the program's overall success included the use of Computer Aided Design (CAD) aircraft data in production of high fidelity 3D models, physics-based simulation software, and use of the actual aircraft Operational Flight Program (OFP) to drive cockpit displays.
Technology was not the only force to bring an exceptional result to this program. DiSTI's Vice President of Business Development and IVEMT Program Manager, Stephen Jackson said, "A key to the program's success was the very open collaborative environment that existed among all the IVEMT stakeholders, including Boeing, DiSTI, the U.S. Navy, and RAAF. Any issues that arose were identified early, and quickly resolved."
The delivery of the IVEMTs caps a highly successful period for DiSTI, with achievements that include the release of a major upgrade to DiSTI's flagship software product GL Studio, availability of graphics support for Apple iDevices, and growth of the employee base by 21% since the start of 2010. DiSTI has also recently been named one of fifty Florida "Companies to Watch" by GrowFL, the Florida Economic Gardening Institute at the University of Central Florida, and ACG Florida as a catalyst that is fueling Florida's emergence from a turbulent national economy.
About DiSTI
DiSTI is a global leader in the development of Human Machine Interface software for businesses, governments and the military. The company's flagship product, GL Studio, enables programmers and developers to build high-fidelity graphics, 3D simulations and fully interactive controls into their models, enhancing the level of realism and sophistication, while improving learning and retention.
More than 500 customers worldwide, including BAE, Boeing, Dassault, Lockheed Martin, Honeywell, Raytheon and Thales, use DiSTI solutions to build maintenance trainers, create PC and Internet-based courseware and to develop components for safety-critical applications. As a full service provider, DiSTI offers a complement of customer programming and development services, and is the recognized leader in training solutions for the global simulation and training community. For more information, visit http://www.disti.com.
###