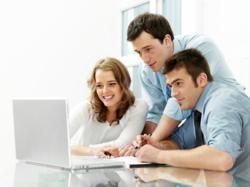 RCN's cutting-edge Session Initiation Protocol (SIP) Trunking, Ethernet Point-to-Point and Managed Router Services are among the most innovative and technically advanced services available on the market.
New York, NY (PRWEB) September 26, 2011
RCN New York, a competitive broadband services provider delivering all-digital HD-video, high-speed Internet/ enterprise data systems and premium voice services for small to medium businesses, today announced compelling details of its featured Enterprise products. Designed to provide customers with all the telecommunications data services they need to maximize business potential, RCN's Enterprise products and solutions are easily accessible at http://www.rcnbusiness.com. Log on and request a free consultation to learn more about enterprise voice, data and video options to support customer-specific needs.
Many businesses know all about RCN's leading New York business cable TV services, but they can also benefit from RCN's expanding voice technology in SIP Trunk service in multiple ways, such as saving up to 50% from their existing IP and voice spend and increasing capacity without adding additional lines all while keeping their existing phone numbers the same. By using RCN's own fiber optic network, the SIP Trunk service, one of the many Enterprise products available, offers customers better return on investment with an upgrade in communications to VoIP; flexibility in purchasing additional service capacity one call path at a time, and availability to utilize time sensitive services like Disaster Recovery.
With an unwavering commitment to offering premium services with the very best in value, RCN has available a complete bundle of Enterprise data solutions. RCN's cutting-edge Session Initiation Protocol (SIP) Trunking, Ethernet Point-to-Point and Managed Router Services are among the most innovative and technically advanced services available on the market. These top of the line products, including business Internet service in New York, are all delivered over RCN's own robust fiber rich network and Internet Protocol (IP) backbone which is built all the way out to the client's office or demarcation point.
RCN arose on the strength of its own advanced fiber-optic network, which has extensively expanded to the point where RCN New York now provides customized, state of the art SIP Trunking or New York VOIP service for business (Voice over Internet Protocol), a two-way business voice service delivered over RCN's IP-based network to the client's IP PBX. SIP Trunking, a robust, cost-effective and flexible Enterprise solution from RCN New York offers Data and Voice services delivered over the same connection eliminating the need for multiple PRI circuits, analog trunks or phone lines. The product is designed to significantly increase capacity of voice and data transmission without adding additional T1 lines while reducing recurring cost for both voice and data circuits.
With RCN's SIP trunk service, business data and voice traffic is carried from the customer premise over RCN's robust fiber IP network to its PSTN gateway interconnected central office switches using a single, dedicated broadband service. Because RCN owns and manages its own fiber optic network, it provides faster support to monitor and respond to customers' needs quickly.
To maximize business potential not only from voice and data services, but also from speed of connectivity as well as simplicity of Ethernet services, RCN, a New York business phone service provider has Ethernet Point-to-Point transfer technology available as another Enterprise product for its customers.
RCN offers a dedicated Ethernet over fiber network that enables extension of LAN infrastructure for WAN connectivity and/or allows point-to-point private line service in its Ethernet Point-to-Point. RCN designed the product to be highly scalable, featuring dedicated bandwidth to guarantee performance with variable transport speeds from 3 Mbps to 10 Gbps. This featured Enterprise product from RCN New York is unique in combing pricing flexibility for choosing exactly how much bandwidth is required now and in the future, and the simplicity of its standards-based IEEE Ethernet Service for layer 2 transport. Business Internet service in New York featuring Ethernet Point-to-Point from RCN enables seamless interconnection with no additional equipment on the business premises, and easier installation and management for rapid provisioning compared to other platforms.
Additional features of the Ethernet Service from RCN ensure that the service delivers an efficient, restorable and easily managed network. These features include: transparent protocol ensuring interoperability between LAN and WAN; MEF 9 and MEF 14 certification; and 24/7 network monitoring.
RCN Enterprise Products equip businesses with additional solutions for managing its telecommunications services especially when faced with special routing requirements or when too much time and money have been spent on internal or 3rd party routing and IT expertise.
Provided in conjunction with RCN's IP over Ethernet Services, RCN's Managed Router Service is a cost effective way for both small and large businesses to have all standard WAN routing requirements provided, freeing up internal IT department resources. RCN New York's Managed Router Service is a Layer 3 device used to connect the customer's internal network to the Internet.
A distinct advantage of the Managed Router Service from RCN is Ethernet Direct Internet Access (DIA) with 3 Mbps to 1 Gbps bandwidth options available for high-speed connectivity to the outside world. Unique features of the Managed Router Service include a single point of contact for the customer's DIA and routing needs; configuration by RCN engineers to meet client-specific needs and 24/7 monitoring of DIA circuit and router by RCN's Network Operations Center. Available from RCN, the service also features Cisco 800, 1900 & 2900 series routers available in 1, 2, 3 and 5 year terms.
RCN Enterprise Products offer solutions that are technically advanced and have the fiber-rich backbone that many other providers lack. RCN built its own network and can offer the knowledge and expertise to deliver services needed as your business grows. Find out about the latest information on Enterprise Products available from RCN New York. Go to rcnbusiness.com.
About RCN
RCN Telecom Services, LLC is a privately-held competitive broadband services provider delivering all-digital and high-definition video, high-speed internet and premium phone services to residential customers (http://www.rcn.com) and small-medium businesses (http://www.rcnbusiness.com). RCN's primary service areas include Washington, D.C., Philadelphia, Lehigh Valley (PA), New York City, Boston and Chicago.
###