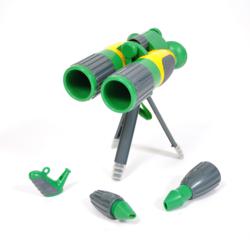 Birmingham, AL (PRWEB) September 15, 2011
Summit™ Toys, known for creating fun, innovative educational toys, has been the recipient of numerous prestigious toy industry awards for Backyard Safari Outfitters™ essential field gear line and Zillionz™ line of money-management toys and gadgets. Since 1995, Summit™ Toys has been recognized by some of the most distinguished toy industry programs. This year, Summit has been honored by the Parents' Choice Foundation, The Oppenheim Toy Portfolio, and The National Parenting Center, for a total of three different products.
The Backyard Safari Outfitters Bird Watcher Field Kit has been recognized by two distinguished toy industry programs: the Parents' Choice Recommended Award and Oppenheim Toy Portfolio Gold Award. The Parents' Choice Awards are the oldest nonprofit program created to recognize quality in children's media. The Oppenheim Toy Portfolio Awards are a benchmark of excellence with consumers, toy makers, and the media.
The winning Backyard Safari Outfitters Bird Watcher Field Kit is an educational and fun way to introduce kids to bird-watching. The kit includes a pair of 5 X 30 power binoculars with 2.5" lens shades, a lightweight tripod, and three different bird callers. As part of Backyard Safari's Patch Program, the kit features an exclusive Bird Watcher collectable patch that can be affixed to the Backyard Safari Cargo Vest to show off your accomplishments. It also includes a field guide that features: exciting field missions to complete, bird watching tips, and photos of birds that can be found in your own backyard.
The National Parenting Center awarded Backyard Safari Outfitters Expedition One the Spring 2011 Seal of Approval. The National Parenting Center's Seal of Approval program is designed to help create better informed parents as they tackle the challenges of parenting in the new millennium.
The Backyard Safari Outfitters Expedition One navigation kit contains everything needed to become an expert outdoor adventurer. Using the trusty 3-in-1 compass tool, kids can practice and learn field skills like navigation, Morse code, and scientific investigation.
The National Parenting Center also awarded Zillionz Real-Money Savings Goal ATM with the Fall 2011 Seal of Approval. The Real-Money Savings Goal ATM is a great tool for learning about money value and mathematics. The ATM features a coin slot and automatic bill feeder that accepts real currency. An ATM card activates the digital display screen so you can view your savings.
For more information about Summit Toys and a complete list of Backyard Safari essential field gear and Zillionz products, visit http://www.summittoy.com.
About Summit Products, LLC.
Founded in 1995, award-winning Summit Products, LLC has grown significantly since then, developing 12 brands and over 400 unique products that span several different categories from outdoor play products, to musical instruments and water powered toys. Among these brands are Youniverse, Backyard Safari, Boom Blaster, Zillionz, Spray Racer, Barrel Blaster, Nickelodeon, Spider-Man 3, Hidden Gems, Moto Headz, Beverly Hills Puppy Club and Garden Girlz. Summit is a leader in the charge to improve toy safety and is one of a select few companies that have a representative member on the Toy Industry Association's Safety Standards & Technical Committee. Named the winner of the Birmingham Business Journal's "Fast Track" award for six of the 9 years it has been offered, Summit continues its growth by sticking with innovation, reputation, speed to market, integrity, superstar team members, execution, and quality.
###