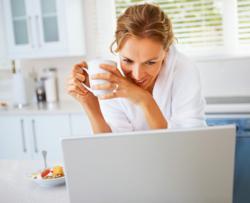 This service is now double the speed of some broadband competitors in the Delaware County Internet service market and is 10 times faster than DSL providers.
Philadelphia, PA (PRWEB) September 20, 2011
Philadelphia and Delaware County Internet service RCN has announced a recent upgrade to the company's standard broadband Internet base speed. Customers subscribing to RCN's Internet service in the Philadelphia area will now receive 40 Mbps as a standard minimum. This speed adjustment represents a significant improvement in download time for residential customers, whether running one or more Internet-ready devices. It also represents a savings to customers who do not already subscribe to enhanced speed Internet packages.
Residential cable TV service and Internet customers commonly run several devices—desktops, laptops, smartphones and table PCs—at once to complete a great number of tasks, from work to school to online entertainment. Although slower speeds allow devices to connect and function, users hoping to telecommute, download music and use their connection for gaming will experience slower downloads and less responsiveness from their high-speed Internet. Delaware County customers, with the 40 Mbps base speed upgrade, will immediately see a difference when running applications concurrently on their home devices.
RCN is also one of the first providers to offer this kind of base download speed increase to customers subscribing to Internet service in the Philadelphia area. This service is now double the speed of some broadband competitors in the Delaware County Internet service market and is 10 times faster than DSL providers. RCN's broadband further exceeds DSL service in that customers receive a greater degree of reliability no matter how far they live from the central hub. RCN high-speed Internet in Delaware County is also unaffected by meteorological changes—like wind and rain—that may affect the service of DSL customers in the same neighborhoods.
In addition to responsiveness and reliability, RCN's Delaware County Internet service speed upgrade represents a significant economical benefit to residential broadband Internet customers, even subscribers who already bundle their RCN telecommunications products like home telephone and cable TV service for added savings. As with other premium telecom services, Internet speed is expensive. The enhanced base speed from RCN will make it unnecessary for many residential customers to require upgraded packages for their Internet service. Delaware County and Philadelphia RCN broadband subscribers who do run more complex applications on multiple devices will still find packages to meet their needs. For the average family, however, the upgrade will exceed service expectations.
Even prior to this base speed enhancement, RCN fiber-optic Internet service in Delaware County and throughout Philadelphia neighborhoods offered robust services in the metropolitan area. Every Delaware County Internet service customer receives ad-free webmail with up to four email addresses and 2 GB of storage. RCN also provides online exclusives to customers such as ABC News Now, ESPN3 and Disney Connection. These benefits are in addition to RCN's wireless home networking capabilities.
For more information about RCN's high-speed Internet in Delaware County, including packages and pricing, visit http://www.rcn.com/philadelphia/high-speed-internet
About RCN
RCN Telecom Services, LLC (http://www.rcn.com) is a privately-held competitive broadband services provider delivering all-digital and high-definition video, high-speed internet and premium phone services to residential and small-medium business customers. RCN's primary service areas include Washington, D.C., Philadelphia, Lehigh Valley (PA), New York City, Boston and Chicago.
###