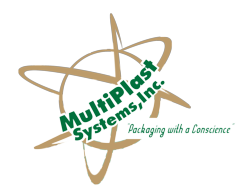 Packaging with a conscience.
Solon, OH (PRWEB) September 21, 2011
Owner and co-president, Jeff Apisdorf of MultiPlast Systems Inc (MSI) stated, "We are excited about launching our new customer focused website. The new website, http://www.multiplastsystems.com, highlights a variety of biodegradable products that MSI has developed. It also provides insights into MSI's current capabilities. We designed this based on feedback from our customers and their desire to know more about our innovative solutions."
The new MSI website embodies the firm's forward–thinking vision and commitment to the growing needs of its customers within their respective markets. The new site offers:

Ideas and insights into innovations and capabilities MSI brings to many plastics industries
Direct access to MSI on almost every page
Streamlined search and more intuitive navigation
The site's homepage welcomes customers with MSI's bold environmentally focused programs with clean uncluttered solutions. The site additionally contains featured content centered on MSI's mission to create "Packaging with a Conscience".
The new MSI website allows customers to see how MSI innovations create solutions to real challenges in the plastics industry. For those using social media forums, there are also opportunities to follow MSI and connect on LinkedIn, Twitter, and Facebook. MSI seeks to work with the most pressing challenges.
Company Information About MultiPlast:
MultiPlast Systems, Inc. is headquartered in Solon, Ohio. The company was founded by Allan Sherman and Jeff Apisdorf and they continue to lead the company's growth strategy in 2011. The company has supplied poly packaging to multiple industries since 1998. MSI's early work was to provide design, production, and distribution services to the supermarket and food service industries. MSI has since expanded to service the hospitality, retail, medical, college & university, industrial, and convenience markets; as well as production and distribution facilities throughout the world. With MultiPlast Systems' innovative biodegradable MSI Resin, the company's most recent projects have expanded into working with the furniture and building industries. Similarly, MSI has the ability, knowledge and availability to work with new industries and new customers.
Please contact MSI to learn about how the company can help you today.
Jeff Apisdorf japisdorf(at)multiplastsystems(dot)com | 440-349-0800
Al Sherman asherman(at)multiplastsystems(dot)com | 740-965-8812
Cher Miller cmiller(at)multiplastsystems(dot)com | 440-349-0800
MultiPlast Systems Inc.
33355 Station Street Suite C
Solon, OH 44139
###