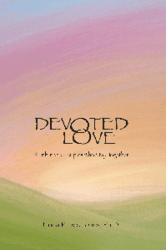 (The author's) perspective on devoted love reads like a series of profound poetry.
Clinton, TN (PRWEB) September 27, 2011
Although movies and literature may focus on romantic love, the emotion has many facets. Devoted love, the love a couple shares, "is a way of living and not just a tender feeling," writes the author, a former clinical social worker and psychotherapist in public and private practice. This deeper love, detailed in this new book released by Dog Ear Publishing, brings with it tenderness and an understanding that bring couples closer, shaping personalities and allowing loved ones to evolve and develop in an atmosphere of respect and acceptance. Devoted love is an ongoing connection that deepens the relationship, not a fading of passion and romance.
Devoted Love grew out of insights the author formed after her husband was diagnosed with kidney cancer. As she grieved, she began to realize how the details of everyday life bound them together, sustaining them through both joyous and stressful times. Jones' perspective on devoted love reads like a series of profound poetry, exploring this rich topic from all angles ranging from intimacy and rituals to growth, respect and loyalty, as well as the flip side: sorrow, conflict and guilt. For instance, the author writes of rituals: "Over time we have adapted our ways of fitting together like a duet that harmonizes our needs together." A couple with devoted love promotes what is best in each other and allows them to be free to find new visions and talents – promoting creativity and expression instead of holding one another back.
Author Linda Prince Jones, a retired licensed clinical social worker and psychotherapist, has more than 20 years of mental health experience. She has worked with children, adults and couples in both clinics and private practice. She received a degree in social work from UCLA, graduating Phi Beta Kappa, and earned a master's degree in social work from the London School of Economics. She has a Ph.D. in psycho-analytic psychotherapy from Reiss-Davis Child Study Center in Los Angeles, California.
For more information, visit http://www.devotedlovebooks.net
DEVOTED LOVE: A TRIBUTE TO COUPLES WHO STAY TOGETHER.
Linda Prince Jones
Dog Ear Publishing
ISBN: 978-160844-811-1 136 pages $12.95 US
Available at Ingram, Amazon.com, Barnes & Noble
and fine bookstores everywhere
About Dog Ear Publishing, LLC
Dog Ear Publishing offers completely customized self-publishing services for independent authors. We provide cost-effective, fast, and highly profitable services to publish and distribute independently published books. Our book publishing and distribution services reach worldwide. Dog Ear authors retain all rights and complete creative control throughout the entire self-publishing process. Self-publishing services are available globally at http://www.dogearpublishing.net and from our offices in Indianapolis.
Dog Ear Publishing – self-publishing that actually makes sense.
# # #