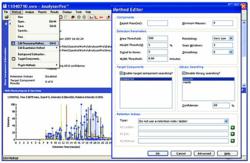 Scott Campbell, Vice President (R&D) of SpectralWorks: "Our vendor neutral data processing package is rapidly gaining acceptance as a key tool in the field of metabolomics."
Evans Mills, NY & Gananoque, ON (PRWEB) September 16, 2011
FarHawk Marketing Services announced today the simultaneous release of web sites AnalyzerPro.us and AnalyzerPro.ca, sites dedicated to the North American distribution of AnalyzerPro, data mining software for mass spectrometry,.
AnalyzerPro mass spectrometry software is developed and produced by SpectralWorks Ltd, and Farhawk Marketing Services is the distributor for North America.
"With these web sites our primary goal is to provide mass spectrometrists with insights into this productive mass spectrometry software in their own time, at their own facility," says Tim Hawkins of FarHawk. "They can download full featured trial software or request a live demo. Or simply read up on what this mass spectrometry software can do for them."
AnalyzerPro analyzes complex mixtures of components within mass spectrometry data to report found components without the need of prior knowledge of the sample. As a complete GC/MS and LC/MS quantification mass spectrometry software package, the qualitative data mining capabilities of AnalyzerPro can be applied to automated sample screening in environmental, pharmaceutical, toxicological and quality control laboratories. It works with the native data file formats of all major mass spectrometer data systems.
AnalyzerPro is also used in the unbiased detection and identification of metabolites in mass spectrometry data, and has been adopted elsewhere as a teaching tool for metabolomics and proteomics. "Efficient data processing and analysis is a key element in mass spectrometry," said Scott Campbell, Vice President (R&D) of SpectralWorks, "and we are very pleased to support teaching initiatives."
About SpectralWorks Limited
SpectralWorks Ltd is a leading UK based software development company. They are dedicated to providing innovative solutions targeted for markets within the life sciences industry and have strong working relationships with a number of the major instrument manufacturers. Coupled with their collaborations with academia and industry, they have the right balance between scientific and software development expertise to provide the best scientific solutions for the end user. In addition to a wide range of mass spectrometry software products, they provide highly respected consultancy services. These services are able to cover the complete software development cycle or specific steps within a project life cycle. These services are frequently utilized by instrument vendors and end users that demand the best for their laboratories.
About Farhawk Marketing Services
Founded in 1999, Farhawk Marketing Services provides sales and distribution of analytical laboratory products, focusing especially on mass spectrometry. With close to 70 years combined experience in sales and marketing in instrumentation and high technology, Farhawk offers valuable insights, products, and ideas to the mass spectrometry market.
###