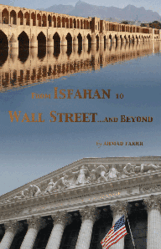 From Isfahan to Wall Street follows (the author's) compelling story from his early days in Iran to his efforts to get an education in school and in life.
San Antonio, Texas (PRWEB) September 29, 2011
Born into a middle-class family in Iran in 1940, the author eventually became one of Wall Street's most successful investment brokers. This new release from Dog Ear Publishing tells the story of the son of a textile factory supervisor, who went to London after high school without speaking any English, graduating at the top of his class from London University five years later. He worked as an engineer for several years before pursuing a career on Wall Street. His "funny" accent brought hurdles but a major national firm eventually gave him a chance. In three years he was the top broker in the office; by the sixth year he was the best of the more than 1000 brokers in the entire firm.
From Isfahan to Wall Street follows Ahmad Fakhr's compelling story from his early days in Iran to his efforts to get an education in school and in life. Detailed accounts bring those days to life and compel readers to root for the author as he makes a name for himself on Wall Street. His early clients included a Nobel Prize-winning Harvard professor, an advisor to the president, a congressman and celebrities. Fakhr retired in 2000 to travel the world by car, and thus far he has taken six major driving adventures and seen sites all over the world, including Cape Town, Machu Picchu, the Great Wall of China and Mt. Everest inTibet.
The author, a multifaceted individual, also has raised exotic animals, owning and operating ranches in Texas, and jumped out of airplanes – truly enjoying the best life has to offer. He has hunted grizzly bears in Alaska, climbed mountains and white river rafted in the Grand Canyon. He provides a shining example of what a driven person can do when inspired to follow his dreams.
For more information, visit http://www.isfahantowallstreet.com
FROM ISFAHAN TO WALL STREET … AND BEYOND
Ahmad Fakhr
Dog Ear Publishing
ISBN: 978-145750-381-8 204 pages $17.95 US
Available at Ingram, Amazon.com, Barnes & Noble
and fine bookstores everywhere
About Dog Ear Publishing, LLC
Dog Ear Publishing offers completely customized self-publishing services for independent authors. We provide cost-effective, fast, and highly profitable services to publish and distribute independently published books. Our book publishing and distribution services reach worldwide. Dog Ear authors retain all rights and complete creative control throughout the entire self-publishing process. Self-publishing services are available globally at http://www.dogearpublishing.net and from our offices in Indianapolis.
Dog Ear Publishing – self-publishing that actually makes sense.
###