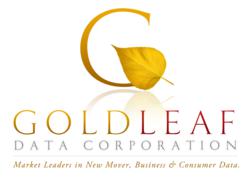 Not only was the price right and the service great, but the follow up support long after the sale has been fantastic!
Atlanta, GA (PRWEB) September 16, 2011
Goldleaf Data, a world-class supplier of up-to-the-minute data, mailing lists and sales leads, is now offering its clients the ability to develop fully integrated direct mail, email, telemarketing and text marketing campaigns built around its highly targeted business and consumer lists. The company also is now providing its clients with unlimited access to a virtually infinite supply of business and consumer lists. With high-quality, accurate data on par with their major competitors, Goldleaf is now able to partner with its clients to create sales-generating direct marketing programs incorporating its sophisticated lists, all designed to produce above average sales leads and ROI.
Known for providing accurate and timely "New Mover" lists, giving companies the competitive advantage of being the first to reach this attractive demographic, Goldleaf offers general business and consumer lists, interactive services and data service. Their data can be sorted both geographically and demographically to provide their clients with precision targeting. Because they source their data straight from the telephone companies, Goldleaf is able to keep costs down, and pass those savings on to their clients.
According to Jason Butler, president of Goldleaf, "Our clients depend on our responsiveness and unwavering customer service. We continually build on our offerings to meet client demand and always strive to provide real-time data at very competitive prices, delivering it quickly and timely. Offering full direct marketing campaign support is another example of our dedication to meeting our clients' needs."
By marrying savvy technology and smart direct marketing knowledge, the company is able to help its customers stay on the cutting edge of technology. Continued Butler, "We know that direct marketing campaigns that garner strong response rates and a solid return on investment utilize more than one communication channel to achieve those results. We provide the data and technology to help clients reach their target audience with laser-like precision."
The company focuses on many industries including home security, insurance, home services, mortgage, real estate, cable/satellite, merchant services, doctors and dentists, and many others. Goldleaf stands behind the quality of their data with the "Goldleaf Guarantee," their promise that its mailing, email, telemarketing and text marketing lists are current and high quality, or "good as gold."
Clients appreciate Goldleaf's attention to detail: according to a longtime client, "They do an excellent job, are always punctual, and offer outstanding data."
To showcase its new and expanded services, Goldleaf Data will be both an exhibitor and sponsor at the upcoming DMA: 2011 on October 1-4, 2011 in Boston, booth #306. Visitors to the Goldleaf Data booth will have a chance to win a free iPad 2.
Based in Atlanta, Georgia, Goldleaf Data is a market leader in the data industry, providing current, accurate and high quality data, mailing lists and sales leads for both Fortune 500 and small businesses, throughout the US and internationally. Founded in 2003, the company services a wide variety of industries, providing direct mail, email marketing, telemarketing and text campaign support. For the most current updates connect with us on twitter.com/GoldleafData. For more information, visit GoldleafData.com or call 1-888-936-3282.
###