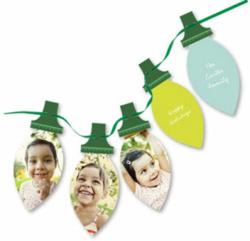 Our customers are so creative when it comes to personalizing a photo Christmas card with a favorite family picture.
Mankato, MN (PRWEB) September 27, 2011
Today, Pear Tree Greetings launches its 2011 holiday collection of stylish and affordable holiday card designs, including story cards, ornaments, magnets, self-mailers, address labels, recipe cards, gift tags, thank you notes and much more.
Joining best-selling designs from 2010 on the Pear Tree Greetings website will be 82 new greeting cards and more for this holiday season."Our 'Merry Best' designs feature products from every category on the website," said Angela Ferrara, director of product development for Pear Tree Greetings.
"Our customers are so creative when it comes to personalizing photo Christmas cards with a favorite family picture, or designing personalized stationery to give as a gift," said Ferrara. "There are so many fun new holiday cards this year - return customers will find new colors, designs and styles for this year's Christmas or Hanukkah cards, and new customers will be delighted with the tremendous variety of products."
Pear Tree's design team has incorporated the latest trends into its holiday card collection, including hand drawn elements, subtle textures and bold patterns - even recycled Christmas cards.
By combining on-trend and unique designs, high-quality paper and lower prices, Pear Tree's customers can create the perfect holiday card that is sure to spend more time on the mantel this season.
About Pear Tree Greetings
Pear Tree Greetings celebrates life's sharable moments with its unique collection of personalized, high-quality greetings and stationery made with 100-pound matte-finish card stock. With hundreds of designs for every occasion, available for purchase online for any budget, Pear Tree inspires people to stay connected with friends and loved ones. Learn more about Pear Tree Greetings and the new Holiday Card Collection here.
###