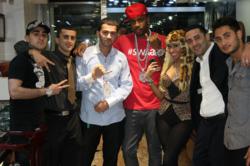 I want everything. - Nicki Minaj
New York, NY (PRWEB) September 14, 2011
Fashion Week is all about extravagant looks, creative designs, and individuality. And who better embodies these qualities than the stunning, talented Nicki Minaj? With such an undeniably unique taste in fashion, there are not many diamond jewelry brands that can match quality and extravagance. It was clear that Avianne & Co Jewelers was the only store up to the task. Having worked together in the past on custom diamond jewelry, the good people of team Avianne prepared an exclusive set for Nicki. Composed of a 10 carat diamond ring, a flawless 18.5 carat diamond necklace, and various diamond bangles, the set was hand selected in order to complement Nicki's over-the-top outfit. Needless to say, it was not easy for the professional designers of Avianne & Co to lay out a set of pieces that was both classy and unique. Having worked with many artists and entertainers in the past on celebrity diamond jewelry, the jewelers were aware of the spotlight and attention that would be brought to Ms Minaj throughout fashion week. Selecting the jewelry was an immensely careful task all in its own.
"If you don't know your jewelry, know your jeweler." - Joseph Aranbayev ( President )
For high end designer jewelry, It's not about making a statement, or gaining attention. It's more about custom crafting and arranging a set of pieces to amplify one's personality. For Nicki Minaj, the jewelers decided to take a more simplified approach. It is fashion week, and with all the photographs and flashing lights to come, it was easy to see that the jewelry would need to contain larger diamonds, of flawless clarity. It was a clear case of quality over quantity. With an immense luster and shine, the 10 carat round cut diamond ring she adorned would prove to be the right choice. Womens Diamond Rings are the perfect enhancement for any outfit, and the exclusive designs found at Avianne & Co are sure to amaze even the most picky of fashion bloggers.
Fashion week is New York's favorite time to shine. All of the city's most exclusive designs are on display, and fashion enthusiasts are out and about sporting their favorite apparel and accessories. The fine diamond rings at Avianne & Co can be seen at various events in the city, and have been notorious for years in print and media. To learn more about our fine designs, or to build your own ring, visit Avianne & Co jewelers online. After browsing their outstanding roster of celebrity clients and gallery of one-of-a-kind designs, it was easy to see why this brand has grown by leaps and bounds over the past decade. And it's not just the womens diamond jewelry that's turning heads, our men's diamond rings have sent shockwaves through the fine diamond jewelry industry. Having produced various pieces for some of the music industry's biggest names, the jewelers have gained a reputation of meeting the highest of standards.
Having developed a relationship with Nicki Minaj's hype man SB, the Avianne & Co team immediately got to work on several diamond pinky ring orders. SB has very high standards to match his extreme taste in custom diamond jewelry, and as such it was " a lot of fun " working on his orders ( says personal jeweler Elliot Avianne ). Selecting jewelry for Ms Minaj was one thing, but designing a diamond ruby ring and necklace for SB was a challenge all in its own.
"I usually don't go through 10 designs in the production of just one piece. " - George Avianne ( concept designs and e-Commerce )
After working one-on-one to complete a design that was both unique, flashy, and of top-quality, Elliot Avianne and SB came to agree on a ring concept that would become one of the hottest designs of the year. This piece came to be known as the SB Ring, and can be viewed along with many other notorious mens diamond rings at Avianne & Co. Then, to put some more icing on the cake ( no pun intended), the boys at Avianne produced a one-of-a-kind matching custom diamond watch. With no real retail value, the cost of the watch based on diamond carat weight and quality is estimated to be upwards of $30,000. With such tall orders, it is quite evident that the people at Aviannes know exactly what they're doing, and the fashion world is sure to see much more of them in the coming years.
# # #