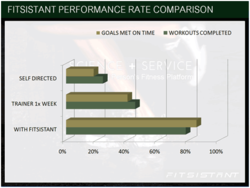 From my wife to co-workers, all have noticed both the physical and mental improvements which motivates me even more to stay-the-course.
Durham, North Carolina (PRWEB) September 20, 2011
Fitsistant, a personalized physical fitness software and service company announced that beta-users at The Carolina Clinic at UNC (a division of UNC Healthcare) achieved, on average, 86% of their goals and completed over 80% of their scheduled workouts during a four month trial. This surpasses clients of personal trainers who on average, only complete 30% of their scheduled workouts. By the end of the year, all patients of the Carolina Clinic at UNC will have access to Fitsistant.
Roger Teague a busy CFO and Carolina Clinic patient has felt the difference. "I have a stressful job requiring long hours. I also have sleep apnea which makes getting a quality good night's sleep very difficult. As a result of getting in better physical condition, coping with the stress and sleeping better have been tangible side benefits of the program. From my wife to co-workers, all have noticed both the physical and mental improvements which motivates me even more to stay-the-course."
According to Andrew Hooge, co-founder and CEO, "what makes Fitsistant so effective is that each member has an evolving program built specifically around their needs and lifestyle, designed by world class coaches and trainers, delivered by a team of talented service professionals who hold members accountable to their goals and is built on a feedback system that protects them from over or under training."
Hooge explains, "Our system was designed to monitor the "athlete" every step of the way so they continue to make progress and reach their goals. By 'flagging' members who show signs of over-training and/or overstress we are more likely to stave off injury and maintain adherence to exercise. We've changed the dynamic of how personal training is delivered by using real people over phone and email combined with advanced fitness software to make high quality training available wherever our members, who tend to travel quite a bit, find themselves going."
Fitsistant also offers personal memberships to busy professionals not officially associated with Fitsistant's current corporate and healthcare clients. These memberships are available by invitation only. You can request an invitation by visiting http://www.fitsistant.com and clicking the "Not a member" link. Current Fitsistant members have the ability to send a limited number of invitations to family, friends and colleagues.
Fitsistant has recently completed its seed funding round, is actively seeking to fill six job openings, and will open up a second investment round in October, with the goal of growing operations to meet national demand.
About The Carolina Clinic at UNC
The Carolina Clinic at UNC provides state-of-the-art care for executive patients in a highly personalized manner. They know their patients well, and help them optimize their health – all so that they can fulfill their professional and personal roles in life, at the highest levels of performance. They recognize the importance of their patients to their businesses, communities and families – and they focus their work on helping them lead long, happy, productive lives.
About Fitsistant
Fitsistant is a software assisted services platform that blends a robust mobile fitness app with the expertise, adaptability and human touch of a training staff handling all the details. Members interact with staff and software via mobile phone, web, text and voice, making specialized workouts with professional trainers always available. Fitsistant was launched with the help of two Durham-based business incubators: Startup Stampede and Pruvop.com.
# # #