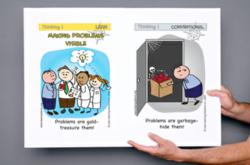 I've always found images to be the most effective way to learn and teach the lean system."
Toronto, ON (PRWEB) September 15, 2011
Lean Learning Solutions has introduced licensing options for its suite of images that bring Lean fundamentals to life with a light touch. The images are available individually or as a bundle set and can be used in training presentations, newsletters and for posters.
"A proverbial picture is worth a thousand words. In the spirit of visual management we're trying to crystallize the fundamentals of the Lean Business System," says Pascal Dennis, President at Lean Pathways and author of Andy & Me, Getting the Right Things Done, and other Lean bet-sellers.
"My personal mission is to translate the profound system of knowledge I was lucky enough to learn at Toyota," says Dennis. "I've always found images to be the most effective way to learn and teach the lean system."
Lean is about engaging employees to solve problems and remove waste every day to create more value for customers. To do this, Team Members must be able to solve problems, and share learning gained thereby across the organization. Building employee capability is a key aspect of Lean. Images make it easier to share and internalize learning points. A shared set of visuals helps employees learn faster and creates the common language critical to quick communication.
"Too much corporate training material is text, text, text, with the odd bland graphic thrown in," Dennis says. "We're trying to create original, engaging doodles that crystallize that put at your fingertips."
Image licensing is based on usage, and pricing is calculated once the customer provides usage specifications. Lean Learning Solutions has over 100 images available.
About Lean Learning Solutions Inc.
Lean Learning Solutions Inc. is a subsidiary of Lean Pathways Inc. The company provides Lean educational material that teaches core concepts and supports implementation across the enterprise. The Directors, Pascal Dennis and Alistair Norval, are veterans of leading Lean companies who have grasped Lean production through years of practice, and by studying with Lean masters in Japan and North America. Visit http://www.leansystems.org for more information.
###