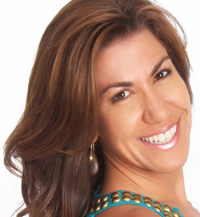 "This call isn't about get-rich-quick schemes," Sasevich said. "Its solid business advice, but once it starts to work, business owners may feel like they really are getting rich quick!"
San Diego, CA (PRWEB) September 16, 2011
Queen of Sales Conversion Lisa Sasevich believes heart-centered entrepreneurs can make a big impact while making big money. That's why she is offering a new, free call, "Lisa's Insider Secrets to Making a BIG Impact and Having Lasting Influence," where she shares the strategies she has used to build her business while still enjoying her life.
"This call isn't about get-rich-quick schemes," Sasevich said. "Its solid business advice, but once it starts to work, business owners may feel like they really are getting rich quick!"
Sasevich explained that what she shares on this call is not something entrepreneurs can easily piece together from listening to business building advice from different sources – because much of what she advises is the opposite of what many business owners have been doing throughout the years.
On the complimentary call, Sasevich reveals:

3 of her favorite ways to "get on your dime," and why doing so is crucial to business growth
How business owners can quickly and easily double or triple their business overnight using her simple yet proven business model
How entrepreneurs can get their brilliance out there efficiently, even if they don't have much business knowledge or experience
Methods business owners can implement immediately to begin making more sales
Sasevich, who exceeded the $4 million mark with her own business in just over 3 years, created this call because she wants to help other heart-centered entrepreneurs to make a difference while making more money and experiencing personal satisfaction and fulfillment.
Experts and entrepreneurs can find out more about "Lisa's Insider Secrets to Making a BIG Impact and Having Lasting Influence" here: http://www.impactandinfluenceintensive.com/training/#
Recently honored as one of America's Top Women Mentoring Leaders by WoW Magazine, and recipient of the coveted eWomen Network Foundation Champion award for her generous fundraising, Lisa Sasevich, "The Queen of Sales Conversion," teaches experts who are making a difference how to get their message out and enjoy massive results, without being "sales-y."
Lisa delivers high-impact sales-closing strategies for turbo-charging entrepreneurs and small business owners to great profits.
After 25 years of winning Top Sales Awards and training senior executives at companies like Pfizer and Hewlett-Packard, she left corporate America and put her skills to the test as an entrepreneur.
And in just a few short years, Lisa created a multi-million dollar home-based business with two toddlers in tow and her then-husband in medical school. Lisa is the undisputed expert on how to make BIG money doing what you love!
###