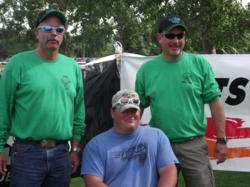 "I have to say the Dry Creek Open Tournament was by far the most fun, emotional touching, competitive but friendly, and most respectful I have ever been in!" Eddie Garcia
Murtaugh, Idaho (PRWEB) September 15, 2011
Dry Creek Outfitters of Murtaugh, Idaho hosted its 5th annual Open Bass Tournament on September 10, 2011. "We want this tournament to be different than any other tournament that anglers fish, we wanted this tournament to be based on friends, food, and fun," said Brad Perkins, owner of Dry Creek. On Friday evening, the 9th of September, all the anglers were able to enjoy a free taco bar, and tips on how to fish different areas on the Milner Reservoir in Burley, Idaho.
The reservoir was divided up into 5 different sections. Each two-man team had to fish each section for an hour and a half starting at first safe light in the morning of the 10th. After each team was able to fish each designated area there was 'happy hour' where they could fish whichever area they wanted.
Each team's boat was furnished with two tackle boxes filled with Dry Creek custom made baits. All 130-tackle boxes were identical for the 65 teams entered. If any other type of lure/bait was used the angler would be disqualified.
If anyone started to feel hungry during the day they were able to drive their boat up to a pontoon party boat owned by Kent Collins of Twin Falls, Idaho, anchored in the middle of the river to get a complimentary hamburger and drink. The hamburgers and refreshments were served by Kent Collins, Brad Perkins, Wade Mason of Twin Falls, Idaho, and Andrew Pike of Kimberly, Idaho.
After a full day of fishing the anglers were invited to attend the awards banquet where they were served a BBQ dinner, prizes, and championship money. The theme of this year's banquet was a tribute to our veterans with special recognition of Purple Heart recipient Andrew Pike. With $14,000 added money, Dry Creek was able to pay all 65 places. The first 36 places won more than their entry fee or were able to break even, the 50th place team won half of their entry fee back, and the teams that blanked earned at least $50. Everyone went home with something in their pocket. Other awards included, the largest bass caught with a Lamiglas rod won a Lamiglas XMG 50 Rod, and the largest bass caught with a Daiwa Reel won a Daiwa Zillion Reel. The 1st Place team, John Lancaster of Kimberly, Idaho and Anthony Avalos of Meridian, Idaho were awarded $1491 cash, $950 in rods and reels donated by Lamiglas and Daiwa, and a 1st place plaque.
The weekend of friends, food, and fun was a success due to the following sponsors: Parts Plus Auto Parts Stores, Mystik Oil, Dry Creek Outfitters, CSR, Machinery Link, Window Welder, Page Industrial, Kevin Osborne, Josh Unruh, Dry Creek Custom Baits, Gold Key Auto, and Wilkins Evaporation.
###