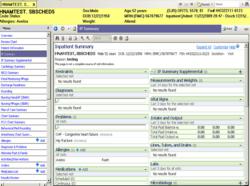 "Our people have worked diligently to find the best ways to use and implement electronic health record (EHR) technology and to make it meaningful to the care experience."

-- Joseph R. Swedish, Trinity Health president and CEO
Monarch Beach, Calif. (PRWEB) September 14, 2011
Trinity Health, a national Catholic healthcare delivery system with 47 hospitals across ten states, today announced that it ranked 35 on this year's InformationWeek 500 – a list of the top technology innovators in the U.S.; it ranked No. 5 in the healthcare and medical industry section of the list, revealed last night at a gala awards ceremony at the exclusive InformationWeek 500 Conference taking place at the St. Regis Monarch Beach Resort, Dana Point, CA.
Trinity Health's top-50/top-5 placement on the esteemed list is considered testimony to the organization's commitment to the meaningful use of electronic health records, particularly to its Genesis program, "going live" at Trinity Health-member hospitals across the country.
"Thanks to the diligence and intelligence of our information technology team — and to the willingness to accept change on our clinical staffs' behalf, Trinity Health hospitals and patients are reaping the benefits of our ten-year-plus commitment to innovation in the implementation our Genesis program," said Joseph R. Swedish, president and CEO, Trinity Health. "Our people have worked diligently to find the best ways to use and implement electronic health record (EHR) technology and to make it meaningful to the care experience. After ten years of that work, we are truly gratified to have received this recognition from an esteemed organization such as InformationWeek."
Trinity Health was recognized for its Genesis implementation as represented by the "go live" at Saint Alphonsus Medical Center in Boise, Idaho, and, specifically, for the way the program improves care and saves lives. Trinity Health has spent more than $400 million dollars implementing Genesis through an innovative one-hospital-at-a-time approach that has exceeded industry norms and organizational expectations — in efficiency of implementation and in improving patient care — time and time again.
A unique approach to implementation helped Trinity Health develop a standard way to unite people, process, culture, and technology — primarily through computerized physician order entry (CPOE). The approach improved quality of care, patient safety, and financial performance on the way.
"For 23 years, the InformationWeek 500 has chronicled and honored the most innovative users of business technology," said InformationWeek Editor In Chief Rob Preston. "In this day and age, however, being innovative isn't enough. Companies and their IT organizations need to innovate faster than ever before to stay a step or two ahead of their customers, partners, and competitors. This year's ranking placed special emphasis on those high-octane business technology innovators."
InformationWeek identifies and honors the nation's most innovative users of information technology with its annual 500 listing, and also tracks the technology, strategies, investments and administrative practices of America's best-known companies. Top winners have included: The Vanguard Group, CME Group, Conway, National Semiconductor, Kimberly-Clark, Hilton Hotels and Unum. The InformationWeek 500 rankings are unique among corporate rankings as it spotlights the power of innovation in information technology, rather than simply identifying the biggest IT spenders.
Additional details on the InformationWeek 500 can be found online at http://www.informationweek.com/iw500/.
About Trinity Health
Trinity Health is among the largest Catholic health care systems in the country. Based in Novi, Mich., Trinity Health operates 47 acute-care hospitals, 401 outpatient facilities, 31 long-term care facilities, and numerous home health offices and hospice programs in 10 states. Employing more than 53,000 full-time staff, Trinity Health reported $7.0 billion in unrestricted revenue in fiscal year 2010. As a not-for-profit health system, Trinity Health reinvests its profits back into the community through programs to serve the poor and uninsured, manage chronic conditions like diabetes, health education and promotion initiatives, and outreach for the elderly. In fiscal 2010, this included nearly $460 million in such community benefits. For more information about Trinity Health, visit http://www.trinity-health.org or become a fan of the Trinity Health Facebook page at http://www.facebook.com/trinityhealth.
About InformationWeek Business Technology Network (http://www.informationweek.com/)
The InformationWeek Business Technology Network provides IT executives with unique analysis and tools that parallel their work flow—from defining and framing objectives through to the evaluation and recommendation of solutions. Anchored by InformationWeek, the multimedia powerhouse that looks across the enterprise, the network scales across the most critical technology categories with online properties like DarkReading.com (security), NetworkComputing.com (networking and communications) and PlugintotheCloud.com (cloud computing). The network also provides focused content for key IT targets, such as CIOs, developers, and SMBs via InformationWeek Global CIO, Dr. Dobb's and InformationWeek SMB, as well as vital vertical industries with InformationWeek Financial Services, Government, and Healthcare resources. Content is at the nucleus of our information distribution strategy—IT professionals turn to our experts and communities to stay informed, get advice and research technologies to make strategic business decisions.
###