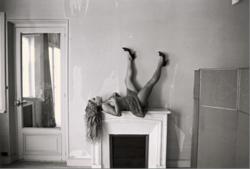 New York, NY (PRWEB) September 14, 2011
When Manhattan-based artist Silas Shabelewska was 16 years old, she paid a visit to photographer Bob Martin, a neighbor in her family's building in Monaco. He gave the teenager - an avid reader of anything related to photography - a roll of 35 mm black & white film and told her to go out and take photos of anything she liked. She shot a roll of photographs using her sister as a model and took them back to Martin for his assessment. Enthusiastic about the results, Martin immediately took Shabelewska on as his only student, teaching her the silver gelatin process. Thereafter, she created more images culminating in The Monte-Carlo Series. 12 of these will be exhibited for the first time at Soufer Gallery in Manhattan September 22 - October 29. The Consulate General of Monaco will be hosting the opening night reception on September 22 from 6-8 PM.
"Bob's extraordinary enthusiasm for my early work allowed my passion for photography to grow and become my life goal," recalls Shabelewska. "The most important advice I got from him was, 'anyone can learn how to print; anyone can learn how to use a camera, but the most important thing is your imagination as well as the way you look at the light … not everyone can do that.' I still apply his advice in my work today. I am thrilled beyond words to share these photographs, 31 years later, for the first time."
Maguy Maccario, Consul General and North American Director of Monaco's Tourist Office, explains, "We are truly delighted to support talented artists from Monaco like Silas. Her passion and inspired creativity have helped cement the Principality's well-deserved reputation for producing so many world-class cultural and artistic achievers."
Shot in abandoned 19th century villas in and around Monte-Carlo from 1980 to 1982, the photographs feature young women in the artist's circle playfully posing in eccentric vintage attire. Shabelewska captures a juxtaposition of space and form with the unique use of light and perspective. The resulting images are provocative and flirtatious. The 12 photographs on exhibit at Soufer Gallery, NYC are 37.5 x 52 inches silver gelatin prints and in an edition of 5 and 1 AP (mounted on diebond).
About Silas Shabelewska
Born and raised in Monaco, Polish-American Silas Shabelewska has practiced photography since the age of 14. At 16, she learned the process of silver gelatin printing. In 1984, Shabelewska enrolled at The School of the Museum of Fine Arts in Boston where she majored in photography, film and video. Since the late 80's, Shabelewska has worked predominantly in photography and has photographed art world personalities such as Leo Castelli and Helmut Newton (in Monte-Carlo in 1995).
Past solo shows include: The Vermeer Series (Soufer Gallery, New York); Roads America (Björn Ressle Fine Art, New York); Roads (Gallery Kayafas, Boston); Roads (Briggs Robinson Gallery at Soho House, New York); Silas Shabelewska (Patrick Verelst Gallery, Antwerp, Belgium) and PEACE & LOVE (Soufer Gallery, New York). Her work has also been showcased in many group exhibitions in Washington, DC, Miami, New Orleans, Cincinnati, Ft. Lauderdale, Corpus Christi and Antwerp, Belgium. She lives and works in New York City with her husband, Norwegian-born artist Andre von Morisse.
About the Consulate General of Monaco
The only accredited Consulate General of the Principality of Monaco in North America (http://www.Monaco-Consulate.com) the Consulate General of Monaco provides cultural and consular support and services to Monegasques, and general information about the Principality. The consulate also organizes exclusive promotional and philanthropic events and activities to benefit charitable endeavors including the Prince Albert II of Monaco Foundation-USA, many of which are held under the patronage of the Princely Family. The Monaco Government Tourist Office (http://www.VisitMonaco.com/us) offers personalized tourism advice and information for individuals, group and business travel as well as access to Le Club Diamant Rouge for VIP travel membership within Monaco.
Please contact Jeff Smith of JS2 Communications at 323/866-0880, ext. 101 or jsmith(at)js2comm(dot)com for inquiries, images and interview requests
For more information and pricing please contact Rozita Shay 212/628-3225
rshay(at)soufergallery(dot)com
# # #