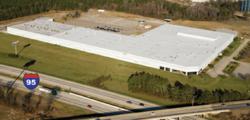 Hackman Capital offered Otis a prime Southeastern location and first-rate building amenities for manufacturing and distribution.
Florence, South Carolina (PRWEB) September 15, 2011
Hackman Capital, a private-held real estate investment firm located in Los Angeles, California, announced today that Otis Elevator of Farmington, Connecticut purchased the property owned by its affiliate at 1500 Range Way, in Florence, South Carolina. Florence Industrial Center, a 423,581 square-foot, class-A industrial facility, once occupied by Maytag, is situated on 49 acres and also includes 35 acres of vacant, interstate frontage land.
John Ticon and Edward Kercher of Cushman Wakefield in Charleston, South Carolina represented Otis Elevator in the recent transaction, while Randy Stump of The Stump Corporation, represented the Hackman affiliate.
"Adjacent to Interstate 95 and in close proximity to deep-water seaports, Florence Industrial Center offers Otis a prime Southeastern location and first-rate building amenities for manufacturing and distribution," said Michael Hackman, founder and CEO of Hackman Capital.
Hackman Capital renovated and completely rebranded the property in June of 2009, after selling and removing specialized Maytag equipment—approximately 100 pieces—which they acquired, along with the real estate, as part of the initial bundled transaction. "We then launched an aggressive marketing campaign designed to attract national companies to the area," said Hackman. The campaign not only touted key building features, Hackman explained, but also promoted Florence's incomparable accessibility and pro-business community.
Otis Elevator, the world's leading manufacturer of elevators, escalators and moving walkways, was the ideal candidate.
Otis completed a fee-in-lieu-of (FILO) payment agreement with Florence County, in an economic development project known as Project Rosebud, last month, in which the county agreed to dramatically reduce Otis' property taxes over the next 30 years.
For its part, the company is contracted to bring at least 360 jobs with an average wage of $25 per hour to the site and invest a minimum of $40 million in capital. If the company doesn't meet those benchmarks in the prescribed amount of time the local incentives agreement will be wholly or partially cancelled.
Beyond the tax rate reduction, an additional incentive offers Otis a $1,000 cash grant from the county for every Florence County resident who is employed at the site for at least three years up until December 31, 2016. That grant for up to 400 employees means a potential local grant of $400,000. The average salary of the employees counted must also be $25/hour, although that can include bonuses.
The 158-year-old company, which employs 61,000 people and has local roots in more than 200 countries and territories, has not yet shared specific details. However, Otis plans to use Florence Industrial Center as a manufacturing site and also expects to build a tall testing tower there. Jobs will come from Otis operations in other U.S. cities, and in Mexico, according to Florence County Economic Development Corporation officials, who anticipate a formal announcement from Otis later this month.
More about Hackman Capital
Hackman Capital is a privately held investment firm specializing in industrial and office real estate. The company is also one of the few in the country that purchases real estate along with capital equipment, whether acquired separately or combined. Since 1986, Hackman Capital has been a principal investor in more than $1 billion of real estate, and has conducted more than 150 equipment transactions across four continents, generating auction proceeds estimated at $200 million. The company is based in Los Angeles, California. Learn more at http://www.hackmancapital.com.
###