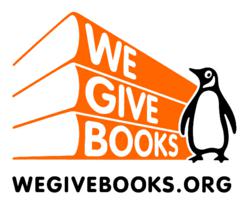 New York, NY (PRWEB) September 14, 2011
Readers everywhere can help make a difference in the lives of U.S. military families through the "Now You're Thinking" online reading campaign from the Pearson Foundation and We Give Books.
From now through September 30th, for every children's book read for free online at http://www.wegivebooks.org, the Pearson Foundation will donate a new hardcover or paperback book to one of three non-profits that support military families year round: the Pat Tillman Foundation, United Through Reading and The Mission Continues.
The campaign celebrates the launch of Now You're Thinking!, a new FT Press title inspired by the true story of U.S. Marines who helped a two-year-old Iraqi girl in need of open-heart surgery that was unavailable in her country.
"With so many military families focused on deployment and related issues, we hope to make it easier for them to discover the rewards of reading with their children and instilling a lifelong love of learning," said Pearson Foundation President and CEO Mark Nieker.
Now You're Thinking!, authored by Judy M. Chartrand, Steward Emery, Russ Hall, Heather Ishikawa, and John Maketa, describes how to apply the critical thinking skills demonstrated by these Marines and apply them in every day life.
Media Contact:
Stacey Finkel, Pearson Foundation
stacey(dot)finkel(at)pearsonfoundation(dot)org
703.304.1377
About We Give Books
Through digital reading initiative We Give Books, launched in March 2010 by the Pearson Foundation and the Penguin Group, every time someone reads a book online at http://www.wegivebooks.org the Pearson Foundation donates a new print book to a charitable organization working to promote literacy. We Give Books has donated more than 350,000 to date, supporting exemplary non-profits that share books and build libraries for young people across the country and around the world.
About the Pearson Foundation
The Pearson Foundation, a 501(c) (3) nonprofit, extends Pearson's commitment to education by partnering with leading nonprofit, civic, and business organizations to provide financial, organizational, and publishing assistance across the globe. The foundation aims to make a difference by sponsoring innovative educational programs and extending its educational expertise to help in classrooms and in local communities. More information on the Pearson Foundation can be found at http://www.pearsonfoundation.org/.
###