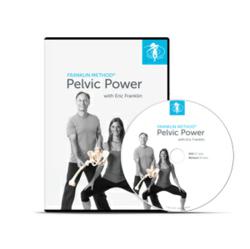 Minneapolis, Mn (PRWEB) September 21, 2011
Practitioners of Pilates, yoga, fitness and physical therapy continue to praise Eric Franklin's motivating conditioning methods.
The Franklin Method is cutting edge among movement professionals, used and acclaimed by The Royal Ballet School London, Juilliard School of Arts New York, Music Conservatory of Vienna, world-class athletes and dancers. It draws heavily on mind-body awareness, imagery and practical elements of the body's design (experiential anatomy) to re-educate movement and posture.
Eric has traditionally offered instructional teaching and methodology via workshops and print publications, such as Relax Your Neck Liberate Your Shoulders (2002), Inner Focus Outer Strength (2006), Happy Feet (2010) and The PSOAS (2011). This September, he expands instruction to a more accessible format with two new DVDs, featuring education and exercises for use at home or the studio.
FRANKLIN METHOD Franklin Band DVD incorporates the extra-long Franklin Band for whole body conditioning. It includes 14 original resistance band exercises and a 12 minute combined routine with dancer Laura Hames Franklin.
FRANKLIN METHOD Pelvic Power DVD provides a detailed review of experiential anatomy, self-touch and imagery cues for pelvic conditioning. It features pelvic floor exercises with the textured, smooth and plush Franklin body balls.
Franklin Method products, including the Franklin Band DVD, Pelvic Power DVD, body balls and resistance bands, are available at http://www.optp.com.
About OPTP
OPTP (Orthopedic Physical Therapy Products) is a leading provider of physical therapy, fitness and wellness products, including an extensive range of exclusive and innovative tools and resources developed by renowned experts.
If you would like more information on the FRANKLIN METHOD, or a free catalog, please see our website: http://www.optp.com. Or contact us at: OPTP P.O. Box 47009 Minneapolis, MN 55447
Toll-free:800-367-7393 Phone: 763-553-0452 Fax: 763-553-9355
###